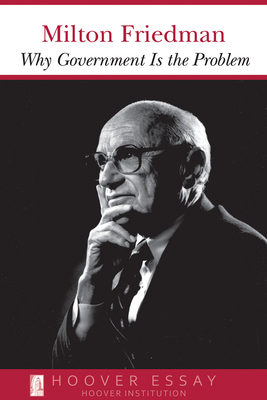 Why Government Is the Problem
Paperback

* Individual store prices may vary.
Description
Friedman discusses a government system that is no longer controlled by "we, the people." Instead of Lincoln's government "of the people, by the people, and for the people," we now have a government "of the people, by the bureaucrats, for the bureaucrats," including the elected representatives who have become bureaucrats.
Hoover Press, 9780817954420, 18pp.
Publication Date: February 1, 1993
About the Author
Milton Friedman, recipient of the 1976 Nobel Memorial Prize for economic science, was a senior research fellow at the Hoover Institution from 1977 to 2006. He passed away on Nov. 16, 2006. He was also the Paul Snowden Russell Distinguished Service Professor Emeritus of Economics at the University of Chicago, where he taught from 1946 to 1976, and a member of the research staff of the National Bureau of Economic Research from 1937 to 1981.