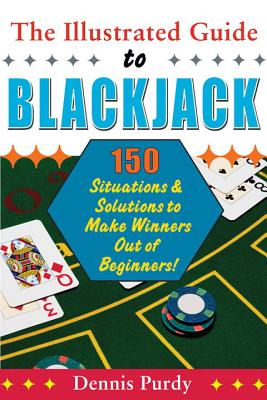 Illustrated Guide to Blackjack (Paperback)
150 Situations & Solutions to Make Winners Out of Beginners
Lyle Stuart, 9780818407086, 336pp.
Publication Date: March 1, 2007
* Individual store prices may vary.
Description
Get ready for a rollicking, wickedly fun new mystery series from USA Today Bestselling Author Rhonda Pollero, featuring the most delicious sleuth ever to solve the crime, get the guy, and save a bundle on discount Gucci, all at the same time. Once Finley Tanner's on the case, shopping and murder will never be the same. . .

Meet Finley Anderson Tanner. F.A.T. to her enemies. Underachiever extraordinaire. This West Palm Beach paralegal hates the gym, still rents her condo, and loves two-hour lunches with her friends. But what really gets Finley's blood pumping is the thrill of the hunt--shopping for deeply discounted designer goods she can wear at her upscale law firm. Hey, if she holds that Chanel bag just right, no one will ever notice the weird smear on the pale pink lambskin.

Too bad work isn't all about fashion. Especially when a grieving widow is sitting in your office, convinced that her husband's accidental death was really murder. Okay, so she's sincere. . .but crazy. She's also a close personal friend of the boss, and the boss wants Finley to personally oversee the investigation. Good-bye outlet malls; hello pain-in-my-Asprey.

Investigating murder isn't really Finley's bag. (That would be Prada, 75% off.) But the deeper Finley digs, the stranger things get. There are an awful lot of "accidental" deaths out there. This discount shopper knows slightly irregular when she sees it, and this case is clearly not right. Kind of like sexy Liam McGarrity. Everything about the hot, hunky P.I. assigned to the investigation screams, "Get out while you still have your underwear!" When he's not working the case, he's working on Finley. Who knew crime could be this much fun?

Now, for a girl whose biggest ambition was take-out Moo Shu at exactly 5:01, life is taking some exciting, unpredictable, and decidedly dangerous turns. But someone doesn't like Finley's new work ethic. And if this paralegal wants to bring home the real goods, she'll have to keep from becoming a killer's total knock off. . .

Top-Dollar Praise For Bestselling Author Rhonda Pollero:

"Rhonda Pollero will take you on a fun, fascinating journey. You won't want to miss her!" --Nora Roberts

"Rhonda Pollero delivers a snappy heroine who pops off the page and a clever mystery. Don't miss this great story!" --Leanne Banks

"Rhonda Pollero's humor and compelling mystery will keep you turning the pages!" --Tess Gerritsen

"Rhonda Pollero is an amazing talent. . .murder has never been this much fun!" --Cherry Adair
About the Author
Dennis Purdy moved to Las Vegas at age 35 to become a professional gambler. His talents at card counting led to his creation of several Vegas gambling teams, with a winning session rate of 86 percent. He is the author of The Illustrated Guide to Texas Hold'em and The Illustrated Guide to Blackjack. He lives in Tacoma, Washington, after retiring from full-time gambling in 1983.
or
Not Currently Available for Direct Purchase