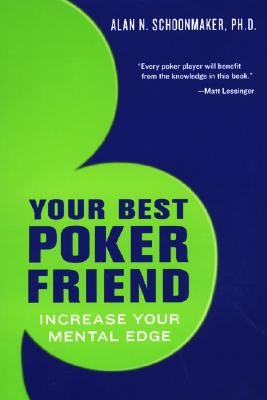 Your Best Poker Friend (Paperback)
Increase Your Mental Edge and Maximize Your Profits
Lyle Stuart, 9780818407215, 340pp.
Publication Date: December 1, 2007
* Individual store prices may vary.
Description
Poker players who read Dr. Alan Schoonmaker's groundbreaking "Your Worst Poker Enemy" learned that many of their mistakes at the table were psychological, not strategic. Now he's taking his program even further to help you get the outstanding results you want--and deserve.
Wait--So Who Is My Best Poker Friend?
You are, of course Dr. Schoonmaker can boost you to your true potential by helping you analyze your commitment, giving you a clear sense of where you want to go and teaching you how to get there. You'll learn the keys to long-term player planning and development, and get the big picture on:

Learning efficiently
Monitoring yourself and the situation
Increasing your edge
Playing no-limit hold'em
Assessing your assets and liabilities
Planning your poker career
As players get smarter and the games get tougher, there's one edge you should depend on: playing at your full potential. Dr. Schoonmaker can help get you there so that you can maximize your enjoyment of the game--and your profits
Alan N. Schoonmaker, Ph.D, is the author of "Your Worst Poker Enemy" and the top-selling "The Psychology of Poker, " and is a columnist for "Card Player" magazine. He received his Ph.D. in Psychology from UC Berkeley, and has conducted research and taught at UCLA, Carnegie-Mellon, and Belguim's Catholic University of Louvain. He lives in Las Vegas.
or
Not Currently Available for Direct Purchase