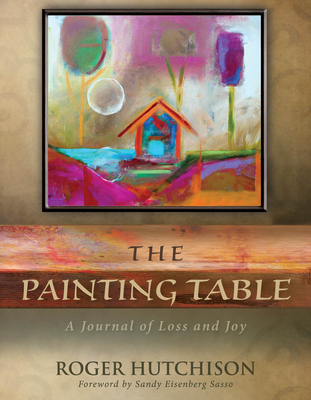 The Painting Table (Paperback)
A Journal of Loss and Joy
Morehouse Publishing, 9780819229052, 63pp.
Publication Date: December 10, 2013
* Individual store prices may vary.
Description
- A story of hope, mixing color, food, artwork, and memories

- Guided questions and blank pages for reflection in word or art by the reader

- Offers a model for small group and individual reflection in times of tragedy
(individual, local or national)

- Featuring 12 full-color illustrations

This is for anyone experiencing significant loss or change; it's an accessible, simple, and beautiful book for those who may be grieving the death of a loved one, struggling in a relationship, or facing a major transition in their lives. Where there is grief, sadness, and loss, there also is hope. There is an opportunity for celebration as we gather together, break bread, talk, and are welcomed. Whether through cooking, or painting, or Eucharist, we come together to remember past experiences and to consider new ones. For many, life happens around the kitchen table, but in this case, we gather at The Painting Table as the reader is invited to draw pictures, record memories, and celebrate living through the creation of something new.


Praise For The Painting Table: A Journal of Loss and Joy…
​"It is here where families share the day, sometimes laugh, sometimes argue. It is at the table that we slam down our spoons in anger, pretend we are not hungry and walk away. It is here that we always return and offer thanks."


From the foreword of The Painting Table, Rabbi Sandy Eisenberg Sasso​



"The Painting Table allowed us to be expressive, in the moment, happy, sad and excited to be wet with paint. It taught us about color and blending colors to make new colors. It brought out conversations about ourselves as we expressed excitement to paint as well as some fear about

lack of skill to paint... mostly from the parents. The Painting Table allowed us to bond over the art while also allowing us to reflect together with our fellow parishioners. The Painting Table is addictive. Once we finished one painting we went on to another and another until the drying table was more than full with beautiful creations of art and the room was filled with happiness. The Painting Table is healing." ­


Tracy Day, Parishioner, Trinity Episcopal Church, Newtown, CT.


​​


"Roger Hutchison knows that the One who ordered and turned a formless void into immense beauty is creative beyond imagination. He also knows that same God is still at work--in our little worlds, in our everyday challenges, and in our own modest efforts to create things of beauty. I have seen Roger guide the hands of young and old into the joy that pens and paints and markers bring. Through The Painting Table he eloquently reminds us that creative expression is not just for formal artists, but can become a part of every life--and an aid to deepening prayer."


The Very Reverend Timothy Jones, Dean of Trinity Episcopal Cathedral and the author of The Art of Prayer: A Simple Guide to Conversation with God.