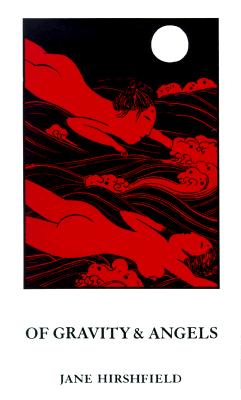 Of Gravity & Angels (Wesleyan Poetry) (Paperback)
Wesleyan University Press, 9780819511386, 80pp.
Publication Date: February 15, 1988
Other Editions of This Title:
Hardcover (2/15/1988)
* Individual store prices may vary.
Description
'Jane Hirshfield's is a brave, new voice that, finding itself in its first volume, now goes on to ever more searching music. Brave in its nakedness, her work like a lucid stream enjoys itself as it keeps its surefooted course. Written with the precision only passion can ensure, the poems commend us to the gay gravity of angels. This is a collection to be indeed relished and prized.' - Theodore Weiss

About the Author
JANE HIRSHFIELD's first book, Alaya, received the Quarterly Review Of Literature Prize in 1982. In 1986, OF Gravity Angels receive d the Joseph Henry Jackson Award from the San Francisco Foundation for a book in progress; in 1989, it was awarded the Commonwealth Club Poetry Medal. Hirshfield's third book The October Palace, published in 1994, received the Bay Area Book Reviewers Award, the Commonwealth Club Poetry Medal, and the Poetry Center Book Award. She has also edited aand co-translated The Ink dark Moon: Poems be Komachi and Shikibu, Women of the Ancient Court of Japan (1988) and edited Women in Praise of the Sacred: 43 Centuries of Spiritual Poetry by Women (1994). Hirshfield's other honors include a Guggenheim Fellowship, a Rockerfeller Foundation Bellagio Fellowship, Columbia University's Translatioon Center Award, and a Pushcart Prize. He has taught at the University of California at Berkely and the University of San Francisco and lives in Mill valley, California.