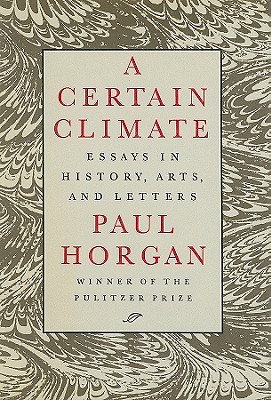 A Certain Climate (Hardcover)
Essays in History, Arts, and Letters
Wesleyan University Press, 9780819552020, 257pp.
Publication Date: June 1, 1988
* Individual store prices may vary.
Description
This book by a two-time Pulitzer Prize winner treasures books and those who write them. IT is a work of literature about literature. It is, in a sense, autobiographical because what Paul Horgan says here of other writers is true of himself, "Words on a page... are the central obsession of his life." A Certain Climate is tripartite and muti-faceted: One, "Toward History," about the writing of history, the collective human biography; Two, "After-Images," essays in the biography of diverse individuals from Willa Cather to Rouben Mamoulian to Alice Roosevelt Longworth; and Three, "A Certain Climate," about the value of books, literature, and writers. Throughout, certain central concerns recur: - The individual vision reaching farther than his art can express"); - The relation of form to substance ("Historical writing that is not literature is subject to oblivion"); - The significance of style ("an indispensable element of all lasting aesthetic achievements"); - The relation of intuition and imagination to fact and demonstrated proof (only "a power of reconstructive imagination" can keep "memory memorable"), and of feeling to art ("I believe that no artist can fulfill his own vision unless he loves the world"); - The capacity of literature to create reality ("an artist's words once read become part of our own truth and our own qualifying memory"). Paul Horgan's distastes are a reflection of his tastes. Thus, for example, he eschews pedantry and cant, that is, an exclusiveness "that seems to disdain the general reader"; cynicism as "too cheap a response to the marvels of life to yield an act of art"; and cultural orthodoxies, for "the intellectual slang of a given period, with its reigning critical modishness, is rarely capable of enclosing the aesthetic judgment." The work of an acute and sophisticated intelligence and a rich and passionate mind, A Certain Climate is civilized company of a high order.
About the Author
PAUL HORGAN is the author of more than twoscore books including seventeen novels, four volumes of short stories, and twenty books of history and other non-fiction. Two of his books are juveniles. His first novel, The Fault f Angels, published in 1933, was a Harper Prize novel. The Pulitzer Prize for History has been awarded to him twice, in 1955 for Great River: The Rio Grande in North American History, which also received the Bancroft Prize, and in 1975 for Amy of Santa Fe. His most recent books are a novel, Mexico Bay published in 1982, in his seventy-ninth year; Of America East and West; the Clerihews of Paul Horgan (Wesleyan 1985); Under the Sangre of Cristo; and A Writer's Eye: Field Notes and Watercolors. Born in Buffalo, New York, 1903, Paul Horgan moved west with his family at twelve years of age to Albuquerque, New Mexico; the history of the Southwest thereafter became a central subject of his writing. He attended the Eastman School of Music and worked in the Eastman Theater in Rochester, New York, and in 1926, became a librarian of New Mexico Military Institute, which he had attended as a boy. He served in the U.S. Army, from 1942 to 1946, as a Chief of the Amy Information Branch in the Information and Education Division, for which he received the Legion of Merit. He had the rank of Lieutenant Colonel at war's end. From 1962 to 1967 he was Director of the Center for Advanced Studies at Wesleyan University, where he has been Adjunct Professor of English; he is now Professor Emeritus and Author-in-Residence. He lives in Middletown, Connecticut.
or
Not Currently Available for Direct Purchase