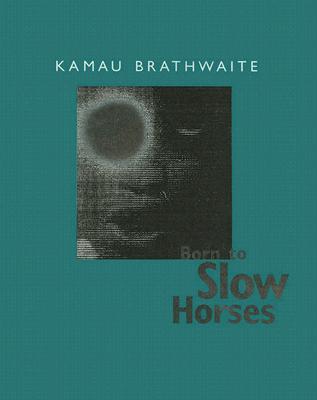 Born to Slow Horses (Wesleyan Poetry) (Hardcover)
Wesleyan University Press, 9780819567451, 143pp.
Publication Date: August 30, 2005
* Individual store prices may vary.
Description
Winner of the Griffin International Poetry Prize (2006) Kamau Brathwaite's newest work, Born to Slow Horses, is a series of poetic meditations on islands and exile, language and ritual, and the force of personal and historical passions and griefs. These poems are haunted, figuratively and literally, by spirits of the African diaspora and drenched in the colors, sounds, and rhythms of the islands. But they also encompass the world of the exile and return, and the events of 9/11 in New York City. Brathwaite is one of the foremost voices in postcolonial inquiry and expression, and his poetry is densely rooted and expansive. Using his unusual "sycorax" signature typography and spelling, Brathwaite brings a cultural specificity, with distinct accents, sonic gestures, and pronunciations, into his pages--making them new, exciting, and rich in nuances.
About the Author
KAMAU BRATHWAITE, born in Barbados in 1930, is an internationally celebrated poet, performer, and cultural theorist. Co-founder of the Caribbean Artists Movement, he was educated at Pembroke College, Cambridge and has a Ph.D. from the University of Sussex in the U.K. He has served on the board of directors of UNESCO's History of Mankind project since 1979, and as cultural advisor to the government of Barbados from 1975-79 and since 1990. His awards include the Neustadt International Prize for Literature, the Bussa Award, the Casa de las Americas Prize, and the Charity Randall Prize for Performance and Written Poetry. He has received both Guggenheim and Fulbrights fellowships, among many others. His book The Zea Mexican Diary (1993) was the Village Voice Book of the Year. Over the years, he has worked in the Ministry of Education in Ghana, and taught at the University of the West Indies, Southern Illinois University, the University of Nairobi, Boston University, Holy Cross College, Yale, and was a visiting fellow at Harvard. Brathwaite is currently Professor of Comparative Literature at New York University, and shares his time between CowPastor, Barbados and New York City.