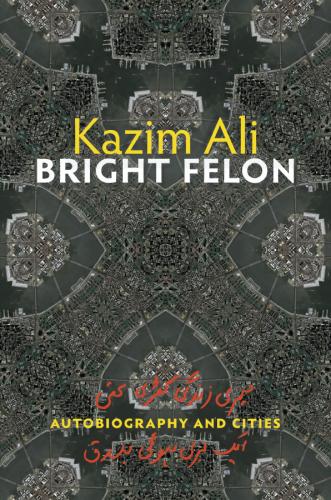 Bright Felon
Autobiography and Cities (Wesleyan Poetry)
Paperback

* Individual store prices may vary.
Description
Eloquent intercultural coming-of-age story

This groundbreaking, transgenre work--part detective story, part literary memoir, part imagined past--is intensely autobiographical and confessional. Proceeding sentence by sentence, city by city, and backwards in time, poet and essayist Kazim Ali details the struggle of coming of age between cultures, overcoming personal and family strictures to talk about private affairs and secrets long held. The text is comprised of sentences that alternate in time, ranging from discursive essay to memoir to prose poetry. Art, history, politics, geography, love, sexuality, writing, and religion, and the role silence plays in each, are its interwoven themes. Bright Felon is literally autobiography because the text itself becomes a form of writing the life, revealing secrets, and then, amid the shards and fragments of experience, dealing with the aftermath of such revelations. Bright Felon offers a new and active form of autobiography alongside such texts as Theresa Hak Kyung Cha's Dictee, Lyn Hejinian's My Life, and Etel Adnan's In the Heart of the Heart of Another Country. A reader's companion is available at http: //brightfelonreader.site.wesleyan.edu/
Wesleyan University Press, 9780819572769, 112pp.
Publication Date: August 15, 2012
About the Author
KAZIM ALI is the author of two books of poetry, The Far Mosque (2004) and The Fortieth Day (2008). He is an assistant professor of creative writing at Oberlin College and teaches in the low-residency MFA program of the University of Southern Maine. He is one of the founding editors of Nightboat Books.