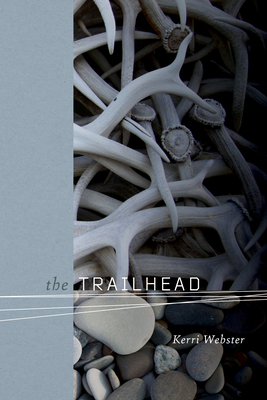 The Trailhead (Wesleyan Poetry)
Hardcover

* Individual store prices may vary.
Other Editions of This Title:
Paperback (4/7/2020)
Description
Visionary poems lay claim to the power of the female poet

Song of the Husbands
for Henry

All winter the kind husbands hover
like mortgaged angels. One
smells gasoline in his sleep, would
be my lover. They want me

to be well. Specimen, they say, and
mean endearment. I row
into the flood. The vodka

turns the lemon to crystal, the
carp turn the pond to shit and hunger,
the lingerie turns the trunkful
of lingerie into a special trunk.
And the husbands, the husbands

If asked they will install a water feature.

I tend my minor art,
I push my sorrow cart,
the women sing to the women o'er the prison
walls: Daughters of Elysium : as

I elysium myself to sleep and,
waking, wear a
poppy cast from silver around
my neck. I grow
ashamed of my teeth, I pawn, redeem,
pawn, redeem, shoo

deer from the poison hedge. Oh
leanmost season. Speak,
husbands; speak, cocked
honeys; speak

"I'm learning to allow for visions," the primary speaker of The Trailhead announces, setting out through a landscape populated by swan-killers, war torturers, and kings. Much of the book takes place in the contemporary American West, and these poems reckon with the violence inherent in that place. A "conversion narrative" of sorts, the book examines the self as a "burned-over district," individual and cultural pain as a crucible in which the book's sibyls and spinsters are remade, transfigured. "Sacralization/is when things become holy, also/when vertebrae fuse," the book tells us, pulling at the tensions between secular and sacred embodiment, exposing the essential difficulty of being a speaking woman. The collection arrives at a taut, gendered calling--a firm faith in the power and worth of the female voice--and a broader faith in poetry not as a vehicle of atonement or expiation, but as bulwark against our frailties and failings.
Wesleyan University Press, 9780819578112, 76pp.
Publication Date: March 6, 2018
About the Author
KERRI WEBSTER is the author of the poetry collections We Do Not Eat Our Hearts Alone and Grand & Arsenal, the latter of which won the Iowa Poetry Prize. The recipient of awards from the Whiting Foundation and the Poetry Society of America, she was a Visiting Writer-in-Residence at Washington University in St. Louis from 2006-2010. She currently teaches at Boise State University.
or
Not Currently Available for Direct Purchase