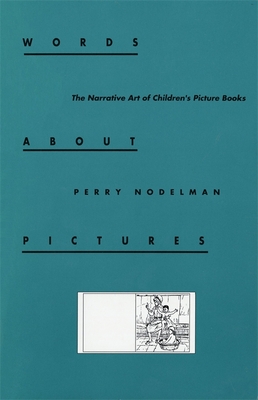 Words about Pictures (Paperback)
University of Georgia Press, 9780820312712, 320pp.
Publication Date: August 1, 1990
* Individual store prices may vary.
Description
A pioneering study of a unique narrative form, Words about Pictures examines the special qualities of picture books--books intended to educate or tell stories to young children. Drawing from a number of aesthetic and literary sources, Perry Nodelman explores the ways in which the interplay of the verbal and visual aspects of picture books conveys more narrative information and stimulation than either medium could achieve alone. Moving from "baby" books, alphabet books, and word books to such well-known children's picture books as Nancy Ekholm Burkert's Snow White and the Seven Dwarfs, Gerald McDermott's Arrow to the Sun, Maurice Sendak's Where the Wild Things Are, and Chris Van Allsburg's The Garden of Abdul Gasazi, Nodelman reveals how picture-book narrative is affected by the exclusively visual information of picture-book design and illustration as well as by the relationships between pictures and their complementary texts.
About the Author
Perry Nodelman is a professor of English at the University of Winnipeg. He is the author of "The Pleasures of Children's Literature," an introduction to literary and theoretical approaches to children's literature recently released in a new third edition written in collaboration with Mavis Reimer. He has also published three novels for young adults and, in collaboration with Carol Matas, the young adult Fantasies in the Minds series.
Praise For Words about Pictures…
"A brilliant, almost overwhelming study that treats Maurice Sendak and Trina Schart Hyman with the same attention to detail and nuance that Wayne Booth gives Jane Austen in The Rhetoric of Fiction. . . . An exceptionally rich book, Words About Pictures asks you to think and read and look and look again. It will open your eyes."--Washington Post Book World

"Thoughtful and thought provoking, Nodelman's discussion ranges over topics such as the ways pictures communicate information, style as meaning, the contextual meaning of visual objects, irony, and rhythms of narrative."--Booklist

"Nodelman brings the disciplines of psychology and art history, of semiotics and reader-response theory, as well as insights from an eclectic cadre of other disciplines to this book. Words About Pictures is the most complete theoretical analysis of the genre."--Wilson Library Bulletin

"Words About Pictures is an excellent reference book for critics, scholars and others and perhaps the best available study of the relationship between words and pictures in children's picture books."--One Minute Book Reviews