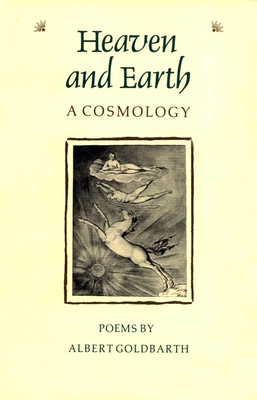 Heaven and Earth (Paperback)
A Cosmology (Contemporary Poetry (Univ of Georgia Paperback))
University of Georgia Press, 9780820313009, 136pp.
Publication Date: May 1, 1991
* Individual store prices may vary.
Description
Focusing with equal energy at the imposing sky and at our own home planet, Albert Goldbarth moves from hosannah-choiring angels to a single peach pit glistening on the tongue of Madame Renoir, from the sweep of the earth's ecocycles to the particles of quantum physics.
In these poems surgeons, lovers, astronauts, psychiatrists, and priests embark on the same far journey, traveling into the universe of what it means to be human, exploring "how the world works." Here, the ancient Egyptian afterlife and the atrocities of the 10 o'clock news, the realm of guacamole chip dip and the life of Rembrandt mix toward one cohesive vision.
About the Author
Poet and essayist Albert Goldbarth is widely heralded as one of the most creative voices in contemporary American literature. His work frequently appears in the pages of the "New Yorker," the "Nation," "Harper's," and the major literary reviews. Over the past two decades, he has published nearly two dozen volumes of poems and essays, including "Heaven and Earth: A Cosmology" (Georgia), which won the National Book Critics Circle Award for poetry. He has also been a Guggenheim Fellow, the recipient of National Endowment for the Arts Creative Writing Fellowships, and a finalist for the National Book Award. Goldbarth is Distinguished Professor of Humanities at Wichita State University.
Praise For Heaven and Earth: A Cosmology (Contemporary Poetry (Univ of Georgia Paperback))…
"What is most exhilarating about reading Goldbarth is the constant surprise one encounters on each page as the poem continues, a protean development, unforeseen and beautiful."--Helen Vendler

"Albert Goldbarth is a truly remarkable phenomenon. He straddles the ages, one foot on the big bang and the other on last Saturday, a quark, a Rembrandt, a woolly mammoth, and a zillion sweet details curatorially, passionately gathered and balanced on the tip of his astonishing tongue."--Donald Finkel

"Goldbarth's prodigious output is matched only by his erudition. He seems to have read and ingested centuries of history, biology, religion. At home in a dozen different masks, he is witty, irreverent, and full of forgiveness for our human condition."--Maxine Kumin

"[Goldbarth] displays a sprawling, crazy-quilt erudition—in science and myth, history and archeology—and cultivates luxuriant sexual and scatological obsessions. One hesitates to call anything but Rabelais 'Rabelaisian,' but when Goldbarth is in full tilt the adjective seems apt . . . a terrific performance."--New York Times

"Goldbarth's 'cosmology' involves a scientific reading of life, one that puts into perspective the chemical and physical (as in physics) aspects of love, spirituality and aestheticism, seeking the 'reassurance / of weight and number, perimeter, durability.' In 'Coin,' the poet argues for the existence—and ultimate isolation—of the soul by noting the inability of medical science to probe the mystery of the body: 'In everybody, there's this final landscape / only capable of supporting a population of one.' Although Goldbarth admits in 'The History of Buttons,' that each person is 'just another grain of dust / freefloating cosmic thermals,' our molecules combine in such a way that we still are able to 'love what it means to be here / at the end of uncountable miles of lacelike nerve.' The reader must work hard to interpret the poet's complicated but extraordinary vision. To make his points, Goldbarth links stories from his own experience with interpretive allusions to art and religion, and his imagery often is loaded with esoteric scientific terms. Ultimately, however, the poet's perceptions of life ring so real and true that the reader is more than likely to forgive any verbal and narrative convolution."--Publishers Weekly