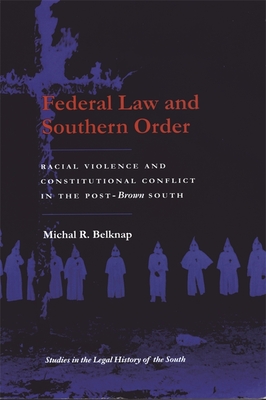 Federal Law and Southern Order
Racial Violence and Constitutional Conflict in the Post-Brown South (Studies in the Legal History of the South)
Paperback

* Individual store prices may vary.
Description
Federal Law and Southern Order, first published in 1987, examines the factors behind the federal government's long delay in responding to racial violence during the 1950s and 1960s. The book also reveals that it was apprehension of a militant minority of white racists that ultimately spurred acquiescent state and local officials in the South to protect blacks and others involved in civil rights activities. By tracing patterns of violent racial crimes and probing the federal government's persistent failure to punish those who committed the crimes, Michal R. Belknap tells how and why judges, presidents, members of Congress, and even Justice Department and Federal Bureau of Investigation officials accepted the South's insistence that federalism precluded any national interference in southern law enforcement. Lulled into complacency by the soothing rationalization of federalism, Washington for too long remained a bystander while the Ku Klux Klan and others used violence to sabotage the civil rights movement, Belknap demonstrates.
In the foreword to this paperback edition, Belknap examines how other scholars, in works published after
Federal Law and Southern Order
, have treated issues related to federal efforts to curb racial violence. He also explores how incidents of racial violence since the 1960s have been addressed by the state legal systems of the South and discusses the significance for the contemporary South of congressional legislation enacted during the 1960s to suppress racially motivated murders, beatings, and intimidation.
Praise For Federal Law and Southern Order: Racial Violence and Constitutional Conflict in the Post-Brown South (Studies in the Legal History of the South)…
"Belknap has given us an extremely useful narrative of the federal government's all-too-gradual efforts to control racial violence in the civil rights period. . . . [He] combines solid documentation with perceptive analysis and powerful narration. The result of his labor is convincing, compelling, and highly recommended."--Annals of the American Academy of Political & Social Science

"Belknap's detailed analysis of racial violence and constitutional conflict in the post-Brown South tells an unpleasant, frustrating, and at times infuriating story with only a highly qualified happy ending. . . . The work fills an important gap in civil-rights literature and fills it intelligently, seasoned with an appropriate dash of impatience and moral indignation."--American Historical Review
University of Georgia Press, 9780820317359, 424pp.
Publication Date: July 1, 1995
About the Author
Michal R. Belknap teaches criminal law, constitutional law, and American legal history at California Western School of Law and is an adjunct professor of American history at the University of California, San Diego. "Federal Law and Southern Order" was named an Outstanding Book by the Gustavus Myers Center for the Study of Intolerance and Human Rights.