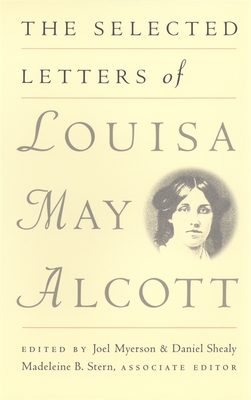 The Selected Letters of Louisa May Alcott
Paperback

* Individual store prices may vary.
Description
The Selected Letters of Louisa May Alcott contains a broad cross-section of letters from the correspondence of the creator of Little Women and provides a compelling autobiography of this most autobiographical of writers. Spanning a period of forty-five years, this collection provides vivid accounts of Alcott's life and development as a writer.
Episodes in Alcott's life are candidly reflected: her youth, when the prototype of Jo March was already being shaped; the 1868 publication of
Little Women
and the prosperity and renown the book brought its author; her never-ending struggles for her family; the final years spent caring for her niece and an invalid father. Alcott's letters also furnished a vent for the pressures she felt to write a sequel to
Little Women
and play matchmaker for the novel's heroine. Writing to a friend in early 1869, Alcott remarked that "Jo should have remained a literary spinster but so many enthusiastic young ladies wrote to me clamorously demanding that she should marry Laurie, or somebody, that I didnt dare to refuse & out of perversity went & made a funny match for her. I expect vials of wrath to be poured out upon my head, but rather enjoy the prospect." The correspondence sheds light on Alcott's relationship with her publishers, such friends as Emerson and Thoreau, and members of her family. Of particular note are her observations--many of them firsthand--on such major issues of the day as abolition, the Civil War, and the women's rights movement.
University of Georgia Press, 9780820317403, 410pp.
Publication Date: August 1, 1995
About the Author
Louisa May Alcott (Author) LOUISA MAY ALCOTT (1832-1888), a novelist and poet, is perhaps known as the author of the "Little Women" trilogy: Little Women, Little Men, and Jo's Boys. She was a committed abolitionist and feminist throughout her adult life. Joel Myerson (Editor) JOEL MYERSON is Carolina Distinguished Professor Emeritus of American Literature at the University of South Carolina. Daniel Shealy (Editor) DANIEL SHEALY is a professor of English at the University of North Carolina, Charlotte. He is the editor of Alcott in Her Own Time and has also been involved in numerous publications related to Alcott's fiction, letters, and journals.