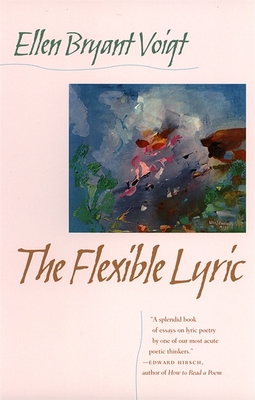 Flexible Lyric (Paperback)
University of Georgia Press, 9780820321318, 234pp.
Publication Date: November 30, 1999
Description
These nine eloquent and skillfully crafted essays by a distinguished poet examine the art of lyric poetry in all aspects of its design and structure. Through attentive readings of a variety of artists, including her contemporaries, Ellen Bryant Voigt celebrates the structure and elasticity of lyric poems. She argues for reading as a writer reads--with equal parts passion and analysis. Her analyses of the effects of tone, image, voice, and structure connect brilliant theory with tangible examples.
Intimate as well as informative, the collection begins with a discussion of the creative process and Voigt's fascination with the writing of Flannery O'Connor and Elizabeth Bishop. Readings of lyric poems by Shakespeare, Sidney, Poe, Stevens, Williams, Larkin, Bogan, Roethke, Plath, Levertov, Berryman, and others demonstrate the roles of gender, point of view, image, and music in poetry. An experienced teacher, Voigt focuses on the lyric but encourages, in any study of poetry, original thinking, attention to structure, and, above all, close reading of the work itself. An intelligent and thought-provoking marriage of art and scholarship, "The Flexible Lyric" exemplifies, with fierceness, dedication, and precision, how the making of poems is not just a trade but a calling.
About the Author
Ellen Bryant Voigt has published seven collections of poetry, and is a Chancellor of the Academy of American Poets. "Messenger " (2007) was awarded the Poets Prize and was a finalist for both the Pulitzer Prize and the National Book Award for poetry. She is the founder of the first low-residency graduate program for writers and her honors include the O.B. Hardison, Jr. Award for Poetry and Teaching, grants from the National Endowment for the Arts and the Guggenheim Foundation, and a Lila Wallace-Reader s Digest Fund fellowship."
Praise For Flexible Lyric…
"The Flexible Lyric is a splendid book of essays on lyric poetry by one of our most acute poetic thinkers."--Edward Hirsch, author of How to Read a Poem

"Sober and very bright, conveying a great sense of respect for the art, The Flexible Lyric exhibits many of the same qualities that it so aptly examines and admires in poetry."--Dean Young, author of Strike Anywhere

"Since Randall Jarrell, poets have bemoaned the lack of a true poet-critic, a sensibility both commonsensical, laconic, and appropriately imaginative. Now we have Ellen Bryant Voigt, who offers Jarrell's combination of wit and gravity—as well as his critical urgency in choosing subjects of scrutiny. What Ellen Bryant Voigt says here needs to be said—the reader finds relief as she sorts out the vexed questions of gender, genre, and form—using the lyric itself as her source of inquiry. These pages are filled with insights that make The Flexible Lyric a classic—timeless, unbiased, brilliant."--Carol Muske, author of An Octave Above Thunder: New and Selected Poems

"[Voigt's] poems are tantalizing, supremely crafted, sublime. Voigt has explored refinements of feeling that most people overlook and delineated these feelings with a hand as deft as Rembrandt's."--San Francisco Chronicle, on Ellen Bryant Voigt

"A passionate defense of the richness, variety, and ambition of the lyric mode . . . it's a celebration of poetic virtues."--Atlantic Unbound

"These eloquent essays celebrate the art and craft of lyric poetry, passionately and astutely revisiting the work of poets from Shakespeare to Bishop. The book is an inspired argument, proving that the making of poems is not just a trade but a calling."--Ploughshares

"Because she possesses a lyric voice as fine as any we have in American poetry today, [her] poems have something of the quality of music, an understated fugue we follow into darkness."--Shenandoah, on Ellen Bryant Voigt
Advertisement