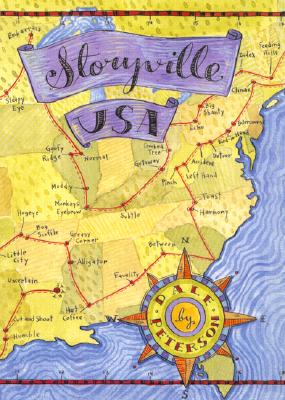 Storyville, USA
Hardcover

* Individual store prices may vary.
Other Editions of This Title:
Hardcover (4/1/2017)
Paperback (4/30/2001)
Description
What is a Storyville? Whether you're in Toast, North Carolina, Monkey's Eyebrow, Kentucky, or Winner, South Dakota, a Storyville is a real town you can find on a map, with a tale behind its quirky name. Covering 20,000 miles of U.S. roads, Dale Peterson drove with his kids, Britt and Bayne, from Start, Louisiana, to Deadhorse, Alaska in search of small-town America in the "garage sale of the open highway." Along the way they explored open spaces, wild places, and country back roads and met people who weren't afraid to talk to one another.
Together, they discovered the sights, sounds, tastes, and smells of nearly sixty small towns, as well as the zany stories behind them, guided by an AAA Road Atlas, expert local storytellers, and lots of curiosity. They dipped into Caddo Lake and the everglades of Uncertain, Texas, went a little crazy in Loco, Oklahoma, and learned about bee colonies in Climax, New York. Conversations with townsfolk range from the refrigerator at the center of Noodle, Texas, and the hazards of Accident, Maryland, to issues of civil rights, religion, and environmental preservation. Collected here are the landscapes, landmarks, faces, thoughts, and conversations of a sentimental, idiosyncratic, and often hilarious American odyssey. "Storyville, USA" is a long, winding trip into the back roads of the country and a longer one into the hinterland of our own hearts.
Praise For Storyville, USA…
"This is a quirky, digressive, insightful, and extremely funny book."--Noel Perrin

"Only a talented writer with a good sense of humor would come up with an idea like this. Dale Peterson encourages his research team—his children—not only to observe that which is in front of their eyes, but also to think about that which has gone. This book sounds a knell for the passing of so much that was of value in local cultures and local environments. Buy Storyville, USA and you will laugh, you will feel sad, and you will be the wiser. Buy it for your grandchildren so that they will grow up with a better understanding of their American heritage."--Jane Goodall

"Storyville, USA is my favorite kind of book, inventive, fun, and so perfectly American. In it the three engaging characters light out for the territories to discover the town or village's history. Each story is then told in a humorous and yarn-spinning vernacular."--Jane Vandenburgh

"Dale Peterson guides us through an affectionate, wry, nostalgic odyssey across small-town USA. Delight and adventure attend this paean to idiosyncrasy, to all things counter, original, spare, strange, American-style: at once an adult's tribute to his childhood and a father's journey with his children."--Rosanna Warren

"Peterson has an appreciation for places off the beaten path and an eye for the minutiae of everyday life. . . . A warm father-child travelogue."--Booklist

"This is a lovely, lively, funny book about being a stranger, a father, and an American. A delight."--Scott Turow

"Peterson has produced a unique work that is reminiscent of Steinbeck's Travels with Charley and Charles Kuralt's America; do your patrons a favor and offer them this witty, totally charming book."--Library Journal (starred review)

"A wonderfully evocative picture of often forgotten towns."--Publishers Weekly
University of Georgia Press, 9780820321516, 299pp.
Publication Date: October 14, 1999
About the Author
Dale Peterson is also the author of "Chimpanzee Travels: On and Off the Road in Africa," "Storyville, USA" (both Georgia), and "The Deluge and the Ark: A Journey into Primate Worlds." He is co-author, with Richard Wrangham, of "Demonic Males: Apes and the Origins of Human Violence." He teaches at Tufts University.
or
Not Currently Available for Direct Purchase