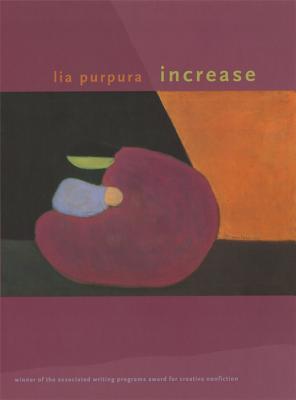 Increase (Association of Writers and Writing Programs Award for Creati) (Hardcover)
University of Georgia Press, 9780820322322, 152pp.
Publication Date: September 1, 2000
Other Editions of This Title:
Paperback (8/12/2011)
* Individual store prices may vary.
Description
Increase is Lia Purpura's chronicle of her pregnancy, the birth of her son, Joseph, and the first year of his life. She recounts her journey with the heightened awareness of a mother-to-be and through the eyes of a poet, from the moment she confirms her pregnancy as "A blue X slowly crosses itself, first one arm, then the other in the small white window of the test," through "the X of his crossed feet in sleep" as her child's world begins. Purpura's sensibility transcends the facts of personal experience to enfold the dramatically changing shape of a larger, complex world.
These closely knit essays portray the rhythms of a new mother's life as it is challenged and transformed in nearly every aspect, from the emotions of wildness, loss, need, and desire to the outward progress--and interruption--of her work and activities. Increase offers us motherhood at an extraordinary pitch, recording, absorbing, and revisiting experiences from a multitude of angles. Purpura presents her story of discovery with unequaled eloquence, grace, and power.
About the Author
LIA PURPURA is the author of seven collections of essays, poems, and translations. Her essay collection On Looking was a finalist for the National Book Critics Circle Award. Her other honors include Guggenheim, NEA, and Fulbright Fellowships, three Pushcart Prizes, and inclusion in the Best American Essays anthology series. Purpura is a writer in residence at the University of Maryland, Baltimore County, and also teaches in the Rainier Writing Workshop MFA Program.
Praise For Increase (Association of Writers and Writing Programs Award for Creati)…
"'Since Joseph was born, this yearning has formed itself, materialized as a desire for a visible, outward sign of attachment' Lia Purpura says in Increase, clearly setting before us the visible, outward signs of the world in which she is made anew by love for a child. This is precise, beautiful writing, made more lovely and urgent by the 'eye of compassion' she praises elsewhere."--Carol Muske

"After reading Increase, I imagine that Lia Purpura might be interesting about any subject she decides to take on. She turns journal entries about her pregnancy and the first year of her son's life into an evocation of a sensibility, and finally, into literature. I love the way her sentences move, and how they nimbly bear the weight of the complex intelligence behind them."--Stephen Dunn

"This powerful, crafted book is, at one level, a meditation on pregnancy and birth, on the giving and gathering of time. But at a deeper level it is a true and eloquent addition to the literature of self-knowledge. What makes this book so strong is that throughout its sustained, lyrical meditation we observe not just a child growing towards birth, but a self growing towards self-definition. This is an adventure in style and music that draws the reader in and offers surprises and truths at every turn."--Eavan Boland

"Increase understands the nature of its own title—the noun and verb of it, the willing participation and the quiescent acceptance. This book chronicles gestation and birth, an indelible record of eighteen months, giving birth itself to beautifully crafted sentences that mirror the shape of thought. Deeply introspective, the interior voice here delves into the experience of nature as well as the nature of experience. Outside, the cyclical seasons manifest themselves in vivd images; inside, the season of birth has its own unfolding rhythm. The result is a fusion of the measured and the lyrical. By turns contemplative, forthright, or questioning, Increase offers not ideology but insight—language in service of individual perception. Time is the subject here, the way we are its unthinking embodiement, the way language allows us to take its measure, eventually to understand. In the end, in yielding to time her child's separate life, this sequence of brief, still moments achieves active wisdom."--Judith Kitchen

"Through the eyes of a poet, Lia Purpura explores the challenges of the first year of motherhood in a series of lyrical essays. . . . For mothers, bystanders, and armchair dreamers, Purpura offers an insightful itinerary."--Publishers Weekly

"Awe is one of many things a reader can gain from reading Increase. Here we are in the hands of an original-thinking Madonna, one who sees honeycombs in the playpen mesh and bathwater as a silver scarf. She reminds us that the miracle of birth is real to someone all the time, and that everyone, even the murderous terrorist on the evening news, started out as somebody's baby."--Fourth Genre
or
Not Currently Available for Direct Purchase