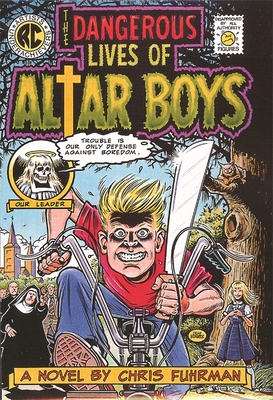 The Dangerous Lives of Altar Boys (Paperback)
University of Georgia Press, 9780820323381, 187pp.
Publication Date: September 28, 2001
Description
Set in Savannah, Georgia, in the early 1970s, this is a novel of the anarchic joy of youth and encounters with the concerns of early adulthood. Francis Doyle, Tim Sullivan, and their three closest friends are altar boys at Blessed Heart Catholic Church and eighth-grade classmates at the parish school. They are also inveterate pranksters, artistic, and unimpressed by adult authority. When "Sodom vs. Gomorrah '74," their collaborative comic book depicting Blessed Heart's nuns and priests gleefully breaking the seventh commandment, falls into the hands of the principal, the boys, certain that their parents will be informed, conspire to create an audacious diversion. Woven into the details of the boys' preparations for the stunt are touching, hilarious renderings of the school day routine and the initiatory rites of male adolescence, from the first serious kiss to the first serious hangover.
About the Author
Chris Fuhrman grew up as a Catholic in Savannah, Georgia, where he was born in 1960. He received his master's degree from Columbia University. Fuhrman died of cancer in 1991 while working on the final revision of "The Dangerous Lives of Altar Boys," his first and only novel.
Praise For The Dangerous Lives of Altar Boys…
"Fuhrman handles his material with wit and grace. There are no false remembrances, there is no condescension; the boys appear here in all their gum-chewing, insult-spitting, girl fantasizing naivete and candor."—Washington Times

"Fuhrman takes wicked pleasure in scraping teen innocence against the graveled, perverse underbelly of suburban childhood."—Newsday

"Heartbreaking yet hilarious . . . By marrying the earnest to the ridiculous, Fuhrman captures the sublime intensity of adolescence."—Publishers Weekly (starred review)

"One of the most strikingly original novels of recent memory."—Creative Loafing

"The moral of the story . . . has so much gravity and grace. . . . This is the real thing, writing done with everything on the line . . . The death of Chris Fuhrman is an incalculable loss to this generation of writers. We should be glad to have his testimony."—Boston Globe

"This book deserves many, many readers. . . . A memorable, funny, and poignant depiction of a glorious boyhood chased down and brutally terminated . . . A story as odd, vivid, painful, splendid, and sad as adolescence itself . . . Fuhrman's posthumous debut invites wistful speculation about the sort of career which might have followed it."—Commonweal

"The author's real triumph lies in his ability to plumb wild young minds, to reveal the ardent romantic hearts that beat within wisecracking boys. Their wild, unselfconscious beauty permeates the book. . . . We may never know what a loss [Chris Fuhrman's death] was. Who knows how many other brilliant, beautiful, heartbreaking books he may have written?"—Boston Book Review

"The freshness of Fuhrman's novel comes from his ability to squeeze out of a time of transition universal evocations of rebellion against growing up. . . . Fuhrman provides his story and characters with enough originality to keep the narrative clipping along and his reader totally absorbed."—Chicago Tribune
Advertisement