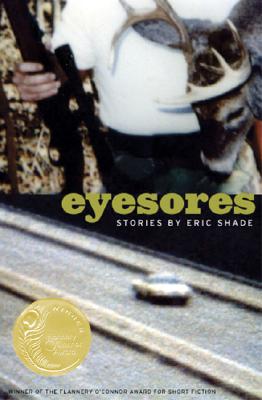 Eyesores
Hardcover

* Individual store prices may vary.
Description
These eleven interrelated stories follow strands of hope and nostalgia that bind together, or fence off, the people of Windfall. Eric Shade's fictional western Pennsylvania community is a place we all know: a town bypassed by the interstate, its rail line clogged with coal cars that haven't moved an inch in years. The men of Windfall still vie on the time-honored fields of contest--from bars to bedrooms to football fields--but none is sure any longer what is won or lost. Few certainties linger: the jobs are going fast and the best women are already taken.
In the title story, a group of unskilled laborers rerun memories of youth as they race against the dark to demolish the town's drive-in theater. A chain restaurant will take its place. Naomi dumps Dwight at the altar in "Hoops, Wires, and Plugs," but then Dwight fritters away the shamed agitation that could have propelled him beyond Windfall's stunting gravitational pull. In the final story, "Souvenirs," small-time hoods Paxson and Gus do what so many in Windfall can't: get out of town. They're off to Pittsburgh and a contract killing they hope will kick off a more rewarding life of crime.
In hands less able than Eric Shade's, Windfall's men would be caricatures, screw-ups with all-too-easy access to the makings of tragedy: pills, booze, fast cars, guns, chain saws. Instead their stories give us new ways to ponder change and its consequences. Windfall stakes out a gritty quarter of the literary map shared by Sherwood Anderson's Winesburg and Thornton Wilder's Grover's Corners.
Praise For Eyesores…
"These gritty stories set in run-down Windfall, Pennsylvania, are, nevertheless, full of love of character and profound affection for place. 'Eyesores,' 'The Heart Hankers,' 'The Last Night of the County Fair'—every story shines with mystery and truth. Eric Shade is a writer to watch."--Kent Nelson, author of Cold Wind River

"This is writing that makes you want to take a sledge to an especially offensive wall, makes you want to scare up an old girlfriend to offer one more body part to, makes you want to steal your boss's lawn furniture. This is fiction of urgency and rawness, the stories we tell when we've run out of lies. These are tales only your buddy hears, the snarly guy you'll one day be durn glad to lose track of. These are stories you can't outrun, stories that get uttered at closing time. Mr. Shade ought to be proud, even unreasonably so, for he has typed up a world with holes at the bottom and hopes at the top—a real achievement, in other words, when so few of his peers seem to have so much at stake between their margins."--Lee K. Abbott, author of Wet Places at Noon

"The people Shade writes about in 11 interrelated stories are mechanics, roofers, carpenters, and house painters. Acutely tuned into their lives in the small town of Windfall, PA, Shade records their big losses and small triumphs with clear-eyed compassion and humor."--Library Journal

"Shade has the voice down-his people dream of futures that involve UFOs and time machines. They know of other places but ultimately, it seems, are stuck and fated. When one person says to another, 'We could leave Windfall,' the response is: 'I think Windfall's about left us, Gus.' A tough, unforgiving portrait of shallow small-town folk who have heard only the gossip on nobility."--Kirkus Reviews

"In his remarkable, Flannery O'Connor Award-winning collection, Shade takes us to Windfall, Pennsylvania, and gets the details exactly right. . . . Shade captures perfectly the way in which it's hard to leave your mistakes behind when you're surrounded by people who remember when you made them. Throughout the book, different characters throw garbage, outgrown toys, or stolen goods off a bridge into old railcars in acts of boredom, anger, or embarrassment; in a coda, when the train finally pulls away, they realize they'd like some of the stuff back. It's surprising yet believable action that sets up a moving metaphor, and short fiction doesn't get much better than that."--Booklist (starred review)

"Taken individually, these stories are brilliantly human and startlingly true to some primal aspect of the postindustrial rustbelt heart."--Rain Taxi

"Shade demonstrates a sure touch. . . . Admitting weakness is difficult for Shade's characters. They live in a world ruled by aggression, strength and the ability to use these feelings in completing hard manual work. At the same time, Shade's characters are often the sensitive types wrapped in tough clothing. For this reason, a reader is apt to feel protective toward Shade's disillusioned young men. We don't want them to grow up too fast; we don't want them to feel stuck in Windfall forever."--John Freeman, Houston Chronicle

"Windfall, Pa., is the estranged sister city to Sherwood Anderson's Winesburg, Ohio. . . . After a few stories we too become fascinated with the stuck lives of Windfall. By the end, we're like Shade and his characters in the way we feel about our own hometown. We both renounce it and fall in love with it forever."--Richard Newman, St. Louis Post-Dispatch
University of Georgia Press, 9780820324326, 216pp.
Publication Date: March 3, 2003
About the Author
Eric Shade was born in rural Pennsylvania. He is a graduate of Penn State University and the University of Houston. He lives with his family in Tokyo, Japan.
or
Not Currently Available for Direct Purchase