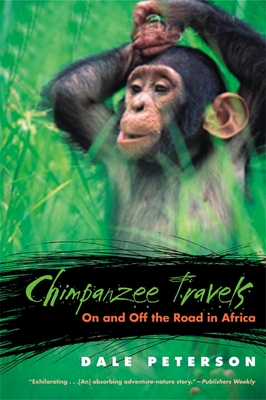 Chimpanzee Travels (Paperback)
On and Off the Road in Africa
University of Georgia Press, 9780820324890, 279pp.
Publication Date: April 7, 2003
* Individual store prices may vary.
Description
A lifelong fascination with primates led Dale Peterson to Africa, which he crisscrossed in hope of sighting chimpanzees in the wild. As with any adventure worth retelling, however, Peterson's detours are as notable as his destinations. With the good-natured fatalism of the tested traveler, Peterson tells of trains and riverboats, opportunists and ecotourists, rain forests and shantytowns as he conveys the pitfalls of going forth on a budget as tiny as the continent is vast. Along the way, we also meet Jane Goodall and several other renowned primate researchers and caretakers. This is travel writing with a purpose, an account that inspires both admiration and concern for Africa's people, places, and natural diversity.
About the Author
Dale Peterson is also the author of "Chimpanzee Travels: On and Off the Road in Africa," "Storyville, USA" (both Georgia), and "The Deluge and the Ark: A Journey into Primate Worlds." He is co-author, with Richard Wrangham, of "Demonic Males: Apes and the Origins of Human Violence." He teaches at Tufts University.
Praise For Chimpanzee Travels: On and Off the Road in Africa…
"Chimpanzee Travels is a lighthearted, deliciously amusing, but accurate story of Dale Peterson's travels into the forests and byways of Africa in search of chimpanzees and the strange white apes who study them. Buy it now—you won't regret it!"--Jane Goodall

"Delightful . . . A book in which humor arm-wrestles with the pathos of paradise lost in modern Africa."--Philadelphia Inquirer

"Peterson cuts a swath through east, west, and central Africa. . . . And if you come along, you will be sure to meet some wild characters—not all of them chimps—have some chuckles, learn about animals, and reflect on the continent's troubles."--Boston Globe

"Peterson has a lively style, and one of those great careers with adventure built in. The book came out in 1995 and was ignored. Happily, it's back, and it's delightful."--National Geographic Adventure

"Peterson brings a wealth of good humor, a snappy irony, and a laid-back style to what were surely travels with a hard edge of difficulty. It's easy to admire the man and easier still to admire this droll, shrewd piece of travel writing."--Kirkus Reviews

"From malaria-infested waters and jungles to desert wastelands, Peterson explores the real Africa. . . . This book is a journal of his adventures, filled with head-on humor, frustration, and grit."--Booklist