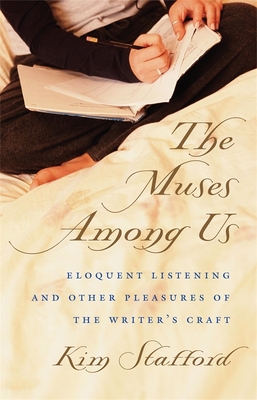 The Muses Among Us
Eloquent Listening and Other Pleasures of the Writer's Craft
Paperback

* Individual store prices may vary.
Description
The Muses Among Us is an inviting, encouraging book for writers at any stage of their development. In a series of first-person letters, essays, manifestos, and notes to the reader, Kim Stafford shows what might happen at the creative boundary he calls "what we almost know." On the boundary's far side is our story, our poem, our song. On this side are the resonant hunches, griefs, secrets, and confusions from which our writing will emerge. Guiding us from such glimmerings through to a finished piece are a wealth of experiments, assignments, and tricks of the trade that Stafford has perfected over thirty years of classes, workshops, and other gatherings of writers.
Informing
The Muses Among Us
are Stafford's own convictions about writing--principles to which he returns again and again. We must, Stafford says, honor the fragments, utterances, and half-discovered truths voiced around us, for their speakers are the prophets to whom writers are scribes. Such filaments of wisdom, either by themselves or alloyed with others, give rise to our poems, stories, and essays. In addition, as Stafford writes, "all pleasure in writing begins with a sense of abundance--rich knowledge and boundless curiosity." By recommending ways for students to seek beyond the self for material, Stafford demystifies the process of writing and claims for it a Whitmanesque quality of participation and community.
University of Georgia Press, 9780820324968, 138pp.
Publication Date: March 17, 2003
About the Author
Kim Stafford is the founding director of the Northwest Writing Institute at Lewis & Clark College, and author of a dozen books of poetry and prose. His most recent books are "The Muses Among Us" (Georgia), and "Early Morning: Remembering My Father, William Stafford." His book "Having Everything Right: Essays of Place" won a citation for excellence from the Western States Book Awards. He lives in Portland, Oregon, with his wife and children.