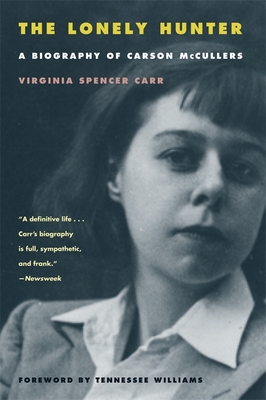 Lonely Hunter (Paperback)
A Biography of Carson McCullers
University of Georgia Press, 9780820325224, 676pp.
Publication Date: June 30, 2003
* Individual store prices may vary.
Description
The Lonely Hunter is widely accepted as the standard biography of Carson McCullers. Author of such landmarks of modern American fiction as Reflections in a Golden Eye and The Ballad of the Sad Caf , Carson McCullers was the enfant terrible of the literary world of the 1940s and 1950s. Gifted but tormented, vulnerable but exploitative, McCullers led a life that had all the elements--and more--of a tragic novel.
From McCullers's birth in Columbus, Georgia, in 1917 to her death in upstate New York in 1967, The Lonely Hunter thoroughly covers every significant event in, and aspect of, the writer's life: her rise as a young literary sensation; her emotional, artistic, and sexual eccentricities and entanglements; her debilitating illnesses; her travels in America and Europe; and the provenance of her works from their earliest drafts through their book, stage, and film versions.
To research her subject, Virginia Spencer Carr visited all of the important places in McCullers's life, read virtually everything written by or about her, and interviewed hundreds of McCullers's relatives, friends, and enemies. The result is an enduring, distinguished portrait of a brilliant, but deeply troubled, writer.
About the Author
VIRGINIA SPENCER CARR held the John B. and Elena Diaz-Verson Amos Distinguished Chair in English at Georgia State University. Her books include Understanding Carson McCullers, Dos Passos: A Life, and a biography of Paul Bowles.
Praise For Lonely Hunter: A Biography of Carson McCullers…
"Sensitive, balanced, authoritative . . . A work of prodigious research and unblinking honesty—the kind of biography that leaves the reader replete with the sense of having vicariously experienced a life as it was lived."--New York Times

"Fascinating . . . From the pages of The Lonely Hunter emerges the essential spirit of a consequential and controversial American writer."--New York Times Book Review

"Carr's biography is full, sympathetic, and frank. She knows Carson McCullers's life and work inside out."--Newsweek

"Likely to become the definitive biography of McCullers"--Library Journal

Admirable . . . Offers the best picture we are likely to get of an almost incomprehensibly neurotic personality."--New Yorker