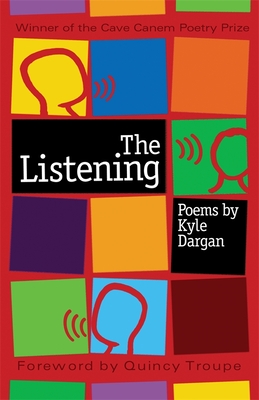 The Listening (Cave Canem Poetry Prize) (Paperback)
University of Georgia Press, 9780820326610, 104pp.
Publication Date: September 20, 2004
* Individual store prices may vary.
Description
Kyle Dargan's debut collection of poetry, The Listening, searches through the cluttered surface of contemporary life to tune into the elemental sounds within the marrow of living/life. Throughout the collection, Dargan interweaves elements of his heritage with the present day--jazz influences blend with hip-hop; neoslave narratives run parallel with the intimate tale of civil rights leaders; post-9/11 America is juxtaposed with family portraits of the sixties and seventies--to reveal the continuous, though ever changing, music of the world around us. Whether capturing the famous Ali-Frazier fight in Manila or a trip to the local barbershop, Muddy Waters or boyhood blacktop games, Dargan gives voice to the most poignant and fleeting aspects of our everyday existence. With singular incisiveness and vigor, these poems act simultaneously as psalms and elegies, praising life at the same time they lament its inevitable passing.
About the Author
Kyle Dargan's first book, "The Listening," was awarded the Cave Canem Poetry Prize in 2003. He received his MFA as a Yusef Komunyakaa Fellow at Indiana University and is currently a Distinguished Adjunct in Residence on the creative writing faculty at American University. He is also managing editor of the journal "Callaloo."
Praise For The Listening (Cave Canem Poetry Prize)…
"What is this phat new thing in your hands? It's both antithetical and wide, wide open. It's right as mismatched sneakers: one foot stepping backward, the other forward. Kyle Dargan has built a shelter with the bricks of the best worlds. He's made a halfway house you won't be leaving soon. Settle in!"--Terrance Hayes, author of Hip Logic

"The intrepid, hybrid 'chronograffiti' of Kyle Dargan's The Listening bears the heft of its personal and cultural histories with linguistic inventiveness, humor, and lyric incandescence. Political in the best, most urgent sense, these poems unsettle and illuminate the city within man, inheriting and extending a conversation originating in mythic, primeval forests and articulated across generations into the apocalyptically postmodern, wetland urban sprawl of inner-city Newark and environs. In poems that are as artistically powerful as they are hiphopculturally arresting and savvy, Dargan makes in this 'reluctant collage' a crucial, humble, fierce music that I, for one, attend to with hope and joy."--Lisa Russ Spaar, author of Blue Venus: Poems

"Dargan shows a wide breadth of talent, from writing what he calls neo-slave narratives to heartbreaking pieces on his own family history. . . . Dargan uses wit and incisive observations to document race in America. Beneath it all are the rhythms and tensions of Newark, which infuse many of Dargan's poems."--Newark Star-Ledger

"The poems have a feel of sincerity . . . here is a poet who has thought about the relationships between subject and form; the rumination has paid off"--H-NGM-N

"A stunning debut . . . Dargan's poems are insightful, startling, articulate, and urgent."--Pam Kinsbury, Southern Scribe

"In The Listening: Poems, Kyle Dargan writes an attractive, melodic line that no one would mistake for prose. But his first loyalty—like that of his models, particularly the Black Arts Movement poets—is to the language people speak. That's not to say his language isn't stylized. It's like a spoken shorthand, blending the creative elision of lyric poetry with the wit, brio and irony of black English and hip-hop slang. . . . The Listening is right; Dargan has a marvelous ear."--Eric McHenry, New York Times Book Review

"Kyle Dargan's The Listening is a fascinating debut collection of poems that requires you to listen not only to its tales, but to their telling. Scattered with unpredictable internal rhymes and delightful turns of phrase, this book is a risky yet successful amalgamation of crisp diction, musical terminology, basketball lingo and urban slang that simultaneously melt and crunch in your mouth. . . . This book is smart but not pretentious, hip but not trendy, and we're certain that these poems are lasting things."--Samantha Thornhill, Meridian

"These rhythmic poems seem to leap off the page because of Dargan's vivid language, talent for alliteration, and frequent use of internal rhyme. . . . The poems within The Listening are musical and full of timbre, but they also resonate with deep meaning."--Chelsea