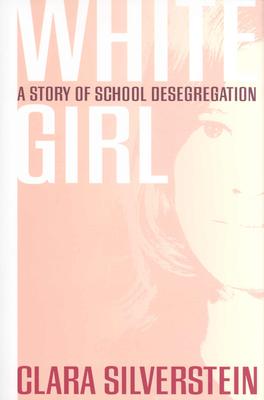 White Girl (Hardcover)
A Story of School Desegregation
University of Georgia Press, 9780820326627, 149pp.
Publication Date: September 20, 2004
Other Editions of This Title:
Paperback (7/1/2013)
* Individual store prices may vary.
Description
This poignant account recalls firsthand the upheaval surrounding court-ordered busing in the early 1970s to achieve school integration. Like many students at the vanguard of this great social experiment, sixth-grader Clara Silverstein was spit on, tripped, and shoved by her new schoolmates. At other times she was shunned altogether. In the conventional imagery of the civil rights era, someone in Silverstein's situation would be black. She was white, however--one of the few white students in her entire school.
"My story is usually lost in the historical accounts of busing," Silverstein writes. At the predominantly black public schools she attended in Richmond, Virginia, Silverstein dealt daily with the unintended, unforeseen consequences of busing as she also negotiated the typical passions and concerns of young adulthood--all with little direction from her elders, who seemed just as bewildered by the changes around them. When Silverstein developed a crush on a black boy, when yet another of her white schoolmates switched to a private school, when she naively came to class wearing a jacket with a Confederate flag on it, she was mostly on her own to contend with the fallout. Silverstein's father had died when she was seven. Another complication: she was Jewish. As her black schoolmates viewed her through the veil of race, Silverstein gazed back through her private grief and awareness of religious difference.
Inspired by her parents' ideals, Silverstein remained in the public schools despite the emotional stakes. "I was lost," she admits. "If I learned nothing else, I did come to understand the scourge of racism." Her achingly honest story, woven with historical details, confronts us with powerful questions about race and the use of our schools to engineer social change.
About the Author
Clara Silverstein directs the summer Chautauqua Writers' Center and is the author of three cookbooks, including "A White House Garden Cookbook." Her articles have appeared in publications including "American Heritage" and the "Boston Globe." She writes and teaches in Boston.
Praise For White Girl: A Story of School Desegregation…
"This wonderful memoir inverts our understanding of desegregation, reminding us that the white students on the bus were just as heroic as their black counterparts. The story is at once a vivid description of a controversial social experiment, an intimate chronicle of a girl's turbulent journey through adolescence, and a loving tribute to a visionary father who died too young."--James S. Hirsch, author of Two Souls Indivisible

"White Girl is a fascinating memoir told from a perspective not often considered in histories of school integration. We learn not only what it was like for Clara Silverstein to be one of a handful of white students placed in a formerly all-black school, but also what it was like to be an adolescent girl experiencing the social changes of the late 1960s and early 1970s—the fashions, the music, the smoke from other people's marijuana."--Jennifer Ritterhouse, coeditor of Remembering Jim Crow

"There are few personal narratives written by whites that chronicle their desegregation experiences, as most of the attention has been focused on black pioneers, and with good reason. But in White Girl, Clara Silverstein has written an honest, balanced, and deeply personal memoir. With lively prose she describes what it felt like to be perceived as 'the enemy' and explains all the inherent contradictions in her own coming of age."--Robert Pratt, author of We Shall Not Be Moved: The Desegregation of the University of Georgia

"Wistful and evocative memoir . . . Silverstein has written an engaging account of her unhappy childhood. Moreover, her intensely personal reflections on this troubled time serve as an important addition to the existing literature."--Southern Jewish History

"Clara Silverstein's account of the loneliness, despair, and fear experienced by a white adolescent caught up in the struggle to integrate Richmond's city schools in the early 1970s forcefully reminds us of the psychological and emotional costs of racism and segregation. This courageously honest work also informs us that not only can the ideal of racial justice be taught, it also can triumph over the adversities imposed by those who find identity and comfort in racial exclusiveness, a message as welcomed and needed today as three decades ago. Silverstein does, indeed, have much to tell us about racism and its evils, and she tells us with conviction and compassion."--Melton McLaurin, author of Separate Pasts, Growing Up White in the Segregated South and Celia, A Slave

"Sizes up integration well, both its vision and its pitfalls."--Chautauqua Literary Journal

"When readers of Clara Silverstein's White Girl: A Story of School Desegregation put down this book, they will not feel good. They will, however, better understand the destructive and dangerous, as well as poignant and painful, impact that racism has had on both white and black Americans."--Journal of Southern History

"It's easy to feel Silverstein's anguish, but her message is that positive social change is possible."--Library Journal
or
Not Currently Available for Direct Purchase