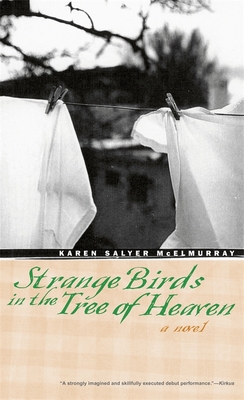 Strange Birds in the Tree of Heaven
Paperback

* Individual store prices may vary.
Description
This haunting debut novel invites us to explore the boundaries between beliefs, desires, obsessions, and madness. Karen Salyer McElmurray's story is set in Mining Hollow, Kentucky, where we meet Ruth Blue Wallen; her husband, Earl; and their son, Andrew. Ruth longs to know God, the only escape she can find in a world that has shown her spiritual, emotional, and sensual defeat. Earl yearns for the music-making of his past, now lost as he makes a living as a coal miner. Andrew desires the affection of a boyhood friend, an expression of love considered sinful in rural Kentucky. And with the divinely inspired yet tormenting help of his mother, in a world of deeply and tragically conflicting desires, Andrew must choose to live or die--he must choose an uncertain love or nothing at all.
Praise For Strange Birds in the Tree of Heaven…
"McElmurray is a powerful writer, successful at rendering both the bleakness of lives lived without hope and the fleeting promise in single moments of recognition. Her mountains pass the test of durable literature."--Women's Review of Books

"This is a story about real life, about people trying to finish things that cannot be finished, about trying to raise the dead, about trying to return mothers to their children and wives to their husbands. . . . But it is also a story about love, about how salvation can be located . . . in the human experience of love."--Chicago Tribune

"McElmurray has a singular gift—she takes the black-and-white hardscrabble world of eastern Kentucky and transmutes it into something shimmering and beautiful through the prism of magic realism, telling the truth and more than the truth. A work of stunning originality."--Lee Smith

"One of the most powerful and haunting while thoroughly controversial Eastern Kentucky novels in the 1990s . . . a gutsy and innovative addition to regional literature."--Appalachian Heritage
University of Georgia Press, 9780820326672, 300pp.
Publication Date: October 4, 2004
About the Author
Karen Salyer McElmurray is the author of two novels, "Strange Birds in the Tree of Heaven" (Georgia) and "Motel of the Stars." She is also the author of the memoir "Surrendered Child." She is Associate Professor of Creative Writing at Georgia College and State University, where she is Nonfiction Editor for Arts and Letters. She also teaches in the low-residency program at Murray State University.