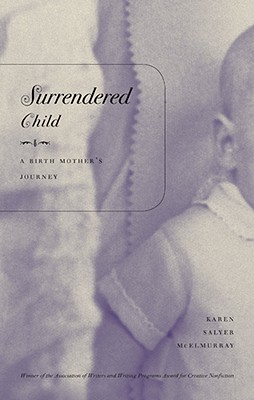 Surrendered Child
A Birth Mother's Journey
Hardcover

* Individual store prices may vary.
Description
Surrendered Child is Karen Salyer McElmurray's raw, poignant account of her journey from her teen years, when she put her newborn child up for adoption, to adulthood and a desperate search for the son she never knew. In a patchwork narrative interwoven with dark memories from her childhood, McElmurray deftly treads where few dare--into a gritty, honest exploration of the loss a birth mother experiences.
The year was 1973, a time of social upheaval, even in small-town Kentucky, where McElmurray grew up. More than a story of time and place, however, this is about a girl who, at the age of sixteen, relinquished her son at birth. Twenty-five years would pass before McElmurray began sharing this part of her past with others and actively looking for her son.
McElmurray's own troubled upbringing and her quest after a now-fully-grown son are the heart of her story. With unflinching honesty, McElmurray recounts both the painful surrendering and the surprise rediscovery of her son, juxtaposed with her portrayal of her own mother, who could not provide the love she needed. The dramatic result is a story of birthright lost and found--and an exploration of the meaning of motherhood itself.
Praise For Surrendered Child: A Birth Mother's Journey…
"This is a very moving and pungent narrative, which quickly engages the reader's imagination, as its gorgeously remembered details spill onto the page, not necessarily in chronological order but by patchwork design and as if on their own."--Beverly Lowry, author of Crossed Over: A Murder, a Memoir

"Graceful, shocking, sensuous, and gritty, this book questions consequences. It ends at the beginning and begins at the end. A wonderful, almost unbearably honest book."--Sheri Reynolds, The Rapture of Canaan

"Riveting and disturbing, McElmurray's poetic language and utter honesty lift this story into the realm of grace—finally, this dark memoir is an enlightening and redemptive work of art."--Lee Smith

"This book bears powerful testimony to the saving grace of imagination."--Tennessean

"Courageous in its honesty, stunning in its vision. McElmurray is a writer of enormous talent who explores the consequences of loss and grace and recovery in this hauntingly beautiful story of her life."--Gwyn Hyman Rubio, author of Icy Sparks

"McElmurray transforms some of her life's more difficult experiences into pure poetry; where there once was pain, she creates beauty."--Rosemary Daniell, author of Fatal Flowers

"Not only a deeply moving personal story that takes great courage to tell, but also a beautiful and haunting exploration of the nature and the meaning of motherhood and love. McElmurray's lyrical, incantatory voice casts a magic spell."--Janice Eidus, author of The Celibacy Club

"In this fresh, painfully honest, but very wise and beautifully written book, Karen McElmurray tells us how deeply some decisions affect us, ever afterwards."--Reeve Lindburgh
University of Georgia Press, 9780820326818, 272pp.
Publication Date: October 4, 2004
About the Author
Karen Salyer McElmurray is the author of two novels, "Strange Birds in the Tree of Heaven" (Georgia) and "Motel of the Stars," and the memoir "Surrendered Child" (Georgia). She is associate professor of Creative Writing at Georgia College and State University, where she is nonfiction editor for "Arts and Letters." She also teaches in the low-residency program at Murray State University.
or
Not Currently Available for Direct Purchase