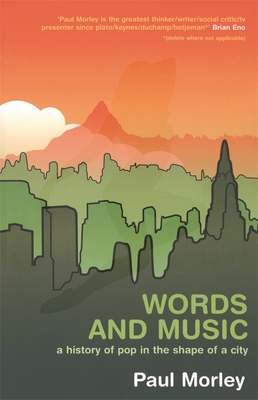 Words and Music (Paperback)
A History of Pop in the Shape of a City
University of Georgia Press, 9780820327051, 360pp.
Publication Date: March 1, 2005
* Individual store prices may vary.
Description
Has pop burnt itself out?
Paul Morley takes the reader on an epic drive through the history of music to find out. A succession of celebrities, geniuses and other protagonists led by Madonna, Kraftwerk, Brian Eno, Erik Satie, John Cage and Wittgenstein appear to give their points of view. Detours and sights along the way include Missy Elliot, Jarvis Cocker, Eminem, Human League, Radiohead, Lou Reed, Now That's What I Call Music, Ornette Coleman and the ghost of Elvis Presley.
About the Author
Paul Morley is a magazine and newspaper journalist, TV critic, TV presenter, TV producer and director, record producer, and formerly a musical artist with the group The Art of Noise. His books include "Nothing," the acclaimed memoir, and "Ask," a collection of his writings from the British pop music weekly "NME (New Musical Express)."
Praise For Words and Music: A History of Pop in the Shape of a City…
"After 20 pages, I was convinced that Words and Music was the best book about pop that I had ever read. After 280 pages, I was at least convinced that it was the weirdest book about pop I had ever read. But that too is a kind of recommendation."--The Guardian

"Mr. Morley, to be sure, is something of a genius; he is also a very strange man. He appears to have actually listened—not heard, listened—to almost all the music you might file under 'Popular'. This is no mean achievement; arguably it's a very perverse one. What's more, Mr. Morley has done it with a very large brain indeed."--The Independent

"Morley's book manages to fascinate, bore, infuriate, provoke, amuse and stimulate: and he knows it. The book's Napoleonic ambitions throw up an ultimately overwhelming succession of lists and genealogies, which paradoxically proves the impossibility of corralling all the music mentioned (let alone listening to it in one lifetime). But it makes you want to try: which is why this book is at heart a passionate, irresistible encouragement to listen more, and to listen better."--Sunday Times of London

"Paul Morley is the greatest thinker/writer/social critic/tv presenter since plato/keynes/duchamp/betjeman.*" *(delete where not applicable)--Brian Eno

"The British music paper NME wasn't always the limp joke ('Rock Is Back!') it is now; back in the late '70s and early '80s, it owned. Chalk it up to punk and post-punk exploding in the U.K. at the time, but another key to NME's success was a cadre of young writers, not least among them Paul Morley, who made music journalism—not just music—seem strange, beautiful, vital."--Village Voice

"Finally, a book weird enough to make Greil Marcus' Lipstick Traces read like Pat the Bunny. Yes, Paul Morley's Words and Music is engaging, unique and on occasion infuriating, sometimes all at once. . . . With an encyclopedic knowledge of popular music surely the envy of every rock critic alive, Morley's lists—like his book—are far-reaching, utterly enjoyable and informative."--Creative Loafing (Charlotte)

"A riotous book . . . Paul Morley is a sort of Lester Bangs for the readers whose life experience owes more to The Human League than to Van Morrison. . . . Words and Music stands to alter how readers hear the sounds all around them, from the whirring of a hard-drive to the photocopied notes of garage bands to the silence that never really exists, even when we want it to."--Andy Battaglia, The Onion

"His musical trip to the center of the secret history of man/machine music is all about the ride and not the arrival."--HARP Magazine