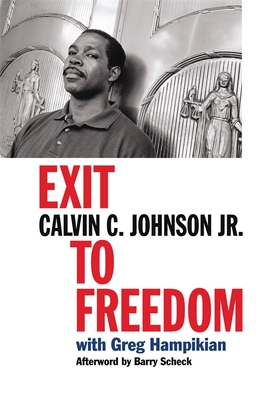 Exit to Freedom
Paperback

* Individual store prices may vary.
Other Editions of This Title:
Hardcover (9/1/2003)
Description
"With God as my witness, I have been falsely accused of these crimes. I did not commit them. I'm an innocent man." In 1983 Calvin C. Johnson Jr. spoke these words to a judge who later handed down a life sentence for rape and related crimes. Johnson spent sixteen years behind bars before he was freed in 1999 after DNA testing conclusively ruled out the possibility of his guilt.
Exit to Freedom
is the unforgettable story of Johnson's unrelenting quest for justice against incredible odds and under circumstances that threatened to shred his dignity and hope. As Johnson recalls his trial and long journey toward freedom through five Georgia prisons, he also speaks candidly about everything from his middle-class childhood in Atlanta to the reasons he came to be a rape suspect to the steadfast support of his family. This is also a story of faith: how Johnson found it in prison and how, he believes, it played a role in his release. At the point in his prison term when Johnson thought that he had exhausted all avenues of appeal, DNA-based forensics began to make headlines. Eventually his case was taken up by the Innocence Project, the nonprofit legal clinic renowned for overturning convictions through DNA testing of evidence. Years of delay followed, but Johnson eventually became the sixty-first convict to be exonerated with the Innocence Project's help. His is the only first-person account of a wrongful conviction overturned through DNA testing. However disturbed readers may become by this portrait of a justice system undermined by its own cynicism, Johnson himself feels no bitterness toward his accusers. In a book that offers many lessons about freedom, that may be the most important one of all.
University of Georgia Press, 9780820327846, 286pp.
Publication Date: September 12, 2005
About the Author
Calvin C. Johnson Jr. (Author) CALVIN C. JOHNSON JR. lives and works in the Atlanta area. He is on the board of the Georgia Innocence Project. Greg Hampikian (Author) GREG HAMPIKIAN, an associate professor of biology, works in the forensic science program at Boise State University.