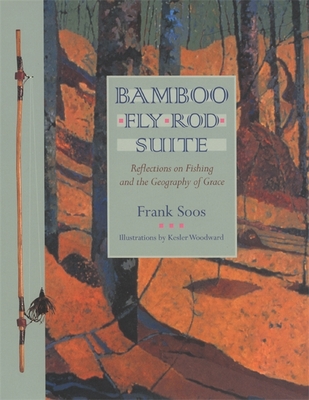 Bamboo Fly Rod Suite (Paperback)
Reflections on Fishing and the Geography of Grace
University of Georgia Press, 9780820328355, 72pp.
Publication Date: March 1, 2006
* Individual store prices may vary.
Description
After he was handed an old broken-down bamboo fly rod, Frank Soos waited several years before he cautiously undertook its restoration. That painstaking enterprise becomes the central metaphor and the unifying theme for the captivating personal essays presented here.
With sly wit and disarming candor, Soos recounts fly-fishing adventures that become points of departure for wide-ranging ruminations on the larger questions that haunt him. Coming to terms with his new rod in "On Wanting Everything," Soos casts a skeptical eye on the engines of consumerism and muses on the paradox of how a fishing rod that becomes too valuable ceases to be useful. "The Age of Imperfection" begins as a rueful account of his botched repair work but soon changes into an insightful reflection on the seductiveness of perfection and finishes as an homage to the creative power that comes from mistakes. In "Useful Tools" Soos takes a decidedly pessimistic look at the age-old quest to combine the good with the beautiful and concludes with an eloquent appreciation of a good tool put to an unintended use. "On His Slowness" offers fresh new perceptions about the human costs of the ever-accelerating pace of contemporary life and the increasingly hard work of resisting it. More than a meditation on suicide, "Obituary with Bamboo Fly Rod" engages the issue of individual human responsibility and the ultimate question of "How to be" with equal parts humility and wonder. This elegant volume is handsomely illustrated with the full-color paintings of Alaskan artist Kesler Woodward. Rich in wisdom and physical appeal,
Bamboo Fly Rod Suite
is a distinctive and rewarding book with wide-ranging appeal.
About the Author
Frank Soos, a native of Virginia, is the author of "Unified Field Theory," which won the Flannery O'Connor Award for Short Fiction. He is a professor emeritus of English at the University of Alaska in Fairbanks.
Praise For Bamboo Fly Rod Suite: Reflections on Fishing and the Geography of Grace…
"Where does [this] book belong? Carried in a fishing creel for streamside reading. On a night stand or a coffee table. Anywhere within easy reach of anglers and nonanglers caught up in the currents of a fast culture and looking for lovely, reflective moments of grace."--Eugene Register-Guard

"A vivid account . . . Lays open in the hand as neatly as an elegant English fly box and would handily fit in the outside pocket of a fishing vest."--Chelsea

"[A] wry, graceful book . . . one of the most tellingly illustrated books I have seen recently."--Gray's Sporting Journal

"Soos combines fishing and philosophy in a graceful style that will appeal to wide variety of readers."--Georgia Library Quarterly

"This book would appeal to philosophical fly fishermen, but to a wider audience as well—particularly individuals who relish the idea of a reflective life."--Baton Rouge Advocate

"A beautiful volume—with strong, original essays."--Atlanta Journal-Constitution

Captivating essays—on living simply and living well."--International Angler

"Bamboo Fly Rod Suite is interesting and engaging. The linkages among the pieces, the thematic echoes from one essay to another, and the concentric meditations that grow outward from the central fact of the bamboo fly rod are thoughtfully imagined and deftly executed."--Ted Leeson, author of The Habitat of Rivers