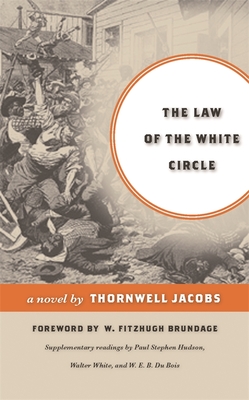 The Law of the White Circle (Paperback)
University of Georgia Press, 9780820328805, 164pp.
Publication Date: September 1, 2006
Other Editions of This Title:
Paperback (8/25/2008)
Paperback (6/4/2009)
Hardcover (6/4/2009)
Hardcover (8/21/2015)
Hardcover (11/20/2015)
Paperback (2/4/2018)
Paperback (5/17/2018)
Paperback (1/10/2012)
* Individual store prices may vary.
Description
Long out of print, this is the only novel set during the infamous Atlanta race riot of 1906, in which dozens of African Americans were killed or injured. The "white circle" of the book's title delineates a realm of freedom, opportunity, and equality into which no black person could enter. The tensions that exploded into three days of deadly mob violence are explored through the intertwined stories of a white journalist, a black college professor, and the woman they both love--an artist of mixed race who chooses to pass as white.
Until the riot, Atlanta had been touted as a place where blacks and whites lived peacefully, yet separately. Thornwell Jacobs tries to make sense of what happened by weaving into his story threads of thought on such issues as media sensationalism, interracial love, social Darwinism, and class divisions within black and white communities. This edition of
The Law of the White Circle
comes with additional writings that offer alternative perspectives on the Atlanta riot and put the novel and its real-world events in historical and sociological context. Included are a foreword by W. Fitzhugh Brundage, a noted historian of the South whose scholarly interests include lynching and historical memory; an essay by historian Paul Stephen Hudson, the recognized authority on Thornwell Jacobs; an excerpt from
A Man Called White
, the autobiography of NAACP leader Walter White, whose family lived in Atlanta at the time of the riot; and the poem "A Litany of Atlanta," composed during the riot by the renowned African American scholar, writer, and civil rights leader W. E. B. Du Bois.
About the Author
Thornwell Jacobs was a prolific writer of poetry, history, and fiction. He was president of Oglethorpe University in Atlanta from 1915 to 1943.
Praise For The Law of the White Circle…
"The lasting significance of Jacobs's novella was not its critical and popular success—it enjoyed a measure of both—but its stark and concise encapsulation of a white worldview that today is, thankfully, seldom heard in public. By reading The Law of the White Circle, we can understand better the mind-set of the architects of Jim Crow as well as its defenders during the 1950s and 1960s."--W. Fitzhugh Brundage, from the foreword

"This reprint of The Law of the White Circle offers a rare literary treatment of the 1906 Atlanta race riot, a tragic, seminal event in Atlanta's history, yet one largely forgotten today. It illuminates racial sensibilities, attitudes, and etiquette at the time of the riot, as well as the literature of the period. The foreword and critical essay help place the work in context, as do the accompanying riot-related documents from W. E. B. Du Bois and Walter White. As we approach the centennial of the riot, this work provides a distinctive lens into this terrible episode."--Clifford M. Kuhn, Associate Professor of History, Georgia State University

"Thornwell Jacobs's The Law of the White Circle offers a chilling insight into the mind of the South. A work of fiction in 1906 Atlanta, the work explores the class anxiety, paranoia, and racial hatred of the South's white elite in an attempt to justify the violence and brutality of the Atlanta riot. The novel peels back the veneer of civilization espoused by southern white intellectuals, politicians, and social reformers of the era to reveal the lawless and vicious white supremacy that J. Max Barber, Henry M. Turner, and W. E. B. Du Bois knew firsthand. Students investigating the hard-fought-for transformations in law and social structure from the end of southern Reconstruction to the victories of the twentieth-century freedom movement will find The Law of the White Circle a rich, though unsettling, source document."--Allison Dorsey, author of To Build Our Lives Together: Community Formation in Black Atlanta, 1875-1906