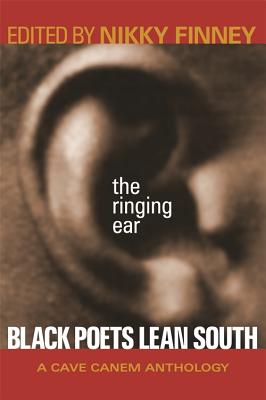 The Ringing Ear (Paperback)
Black Poets Lean South (Cave Canem Poetry Prize)
University of Georgia Press, 9780820329260, 405pp.
Publication Date: March 25, 2007
* Individual store prices may vary.
Description
The South: to render all that it means to an African American takes someone with acutely tuned senses, someone with a patience, a passion even, for the region's history and contradictions. It takes a poet. In this new anthology, the first of its kind, more than one hundred contemporary black poets laugh at and cry about, pray for and curse, flee and return to--the South.
Voices new to the scene appear in The Ringing Ear alongside some of the leading names in American literature today, including Sonia Sanchez, Yusef Komunyakaa, Harryette Mullen, Nikki Giovanni, Kevin Young, Cornelius Eady, and Al Young. The southern worlds opened up by these poets are echoed in how their poems are grouped, under headings like "Music, Food, and Work: Heeding the Lamentation and Roar of Things Made by Hand," or "Religion and Nature: The Lord Looks Out for Babies and Fools," or "Love, Flesh, and Family: The Hush and Holler Portraits."
"Not all of us on these pages have come to or from the South by the same dirt road," says anthology editor Nikky Finney. "We have not chosen our dark olive words from the same patch of earth. Some have come by way of birth and others have followed street musicians and urban corner preachers, dream and myth, to stand before its pine and iron gates."
About the Author
Nikky Finney is a professor of creative writing at the University of Kentucky and the author of three collections of poetry: "On Wings Made of Gauze"; "Rice," which won a PEN America Open Book Award; and "The World Is Round." She is also the author of "Heartwood," a collection of short stories. Cave Canem is a national nonprofit organization committed to the discovery and cultivation of new voices in African American poetry. From its beginning in 1996, Cave Canem has offered a safe haven for black poets-whether schooled in MFA programs or poetry slams-to come together to work on their craft and engage others in critical debate. Go to www.cavecanempoets.org to learn more.
Praise For The Ringing Ear: Black Poets Lean South (Cave Canem Poetry Prize)…
"The Ringing Ear reminds us that sometimes regionalism does not mean provincialism or myopia, but instead offers an opportunity for people to find their true songs and sing them with the assurance and power of knowing. There is something strikingly expansive about the range and complexity of the poems collected in this anthology. This is a distinctly southern book, a distinctly black book, a distinctly American book—it is all these things and more."--Kwame Dawes, author of Wisteria: Twilight Poems from the Swamp Country

"The Ringing Ear brings together a wonderfully diverse group of African American poets under the aegis of the now widely known Cave Canem workshops, which have enabled dialogue and opened doors for hundreds of Black poets in the last decade. In this anthology, extraordinary emerging poets join honored ones like Yusef Komunyakaa, Sonia Sanchez, Harryette Mullen, Cornelius Eady, and those whose names—Thomas Sayers Ellis, Natasha Trethewey, Kevin Young—are becoming indelible. Their focus is the "magnetic South," vexed and compelling as it is in the Black American imagination. Narrative, lyric, surreal, or hyper-real, using meter, multiple voices, verbal deconstruction, informed by jazz, blues, cutting-edge pop, string quartets, and schoolyard rhymes, by history learned in books and told in kitchens, this book pieces a mosaic of American life and of the poem's possibilities."--Marilyn Hacker, author of Desesperanto: Poems 1999-2002

"There is little question Cave Canem is transforming contemporary American poetry . . . Finney's care and sophistication give shape to this wonderful showcase of new talent . . . The Ringing Ear negotiates traditional southern themes such as food, religion, land, labor, and family, and challenges the reader to question how issues of love and sexuality complicate assumptions about race and the South . . . What is most striking about The Ringing Ear is the degree of intimacy in each poem . . . This is a wonderful resource for teaching the craft of poetry and an exciting example of contemporary Southern literature. With The Ringing Ear, Nikky Finney introduces herself as a talented editor, and Cave Canem solidifies its position as a powerhouse in American poetry."--American Book Review

"By writing about a region with its rich history and racial contradictions, these poets advance the impact of their poetry beyond historical and cultural boundaries. This is a timely, vital collection that insists the uses of poetry must be redefined and examined through the work of some of our best poets."--Bloomsbury Review

"This poetry anthology is riveting, perfectly imagined for classroom use as well as for readers who want to stay in touch with the work of young writers. Even better than individual poems—and they are very good indeed—are the ingenious, even brilliant conversations among them that editor Nikky Finney arranges. Everywhere the poems reinforce, argue with, amplify, challenge, and deepen each other. This kind of subtext editing is a gift. We need this book."--Hilda Raz, Prairie Schooner

"Offers a consistently strong showcase of Black voices and a compelling and accessible organization, and should persist as an important articulation of the Black experience of the American South . . . wondrous diversity of form subject, of perspective . . . the genius of the book and of Cave Canem's importance is obvious . . . The Ringing Ear is such an heirloom—Cave Canem's gift from the chorus of voices pushing the boundaries and barriers to the diverse and expanding tradition of American poetry."--Rain Taxi

"The Ringing Ear is an intergenerational sampling that is arranged thematically. The effect is that of eavesdropping on a thoughtful, candid, provocative conversation among the poets in each section."--San Antonio Current

"There are tons of literary anthologies inspired in one way or another by the Southern states. But to say that an anthology of poems about the South by African American writers is overdue would be an understatement. . . . The Ringing Ear . . . redresses the imbalance, collecting poems by Sonia Sanchez, Cornelius Eady, Nikki Giovanni, Nathaniel Mackey, and more."--Guardian
or
Not Currently Available for Direct Purchase