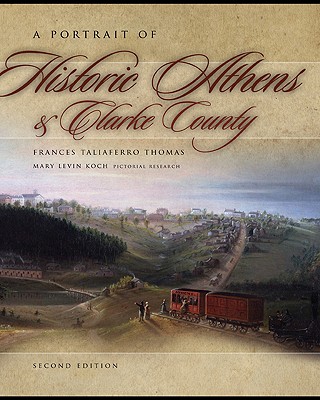 A Portrait of Historic Athens & Clarke County (Wormsloe Foundation Publication #10) (Paperback)
University of Georgia Press, 9780820330440, 334pp.
Publication Date: May 15, 2009
* Individual store prices may vary.
Description
Athens, Georgia, seems the quintessential southern university town. With a geography chiseled over geologic time by its lifeblood, the slow-flowing Oconee River, Athens has developed a unique culture as the two-century-long home of the state's bustling center of learning and research, the University of Georgia. A multitude of influences have powered the emergence of Athens from its eighteenth-century rustic solitude to its current incarnation as a community striving to preserve the old while embracing the new. A Portrait of Historic Athens and Clarke County gives equal attention to Athens's natural and built environments and their coevolution into one of the modern South's most dynamic small cities. Starting with the town's beginnings, Frances Taliaferro Thomas emphasizes settlement patterns, key events, institutions, architecture, landscape, economics, and the highly distinctive personalities that have molded Athens into what it is today.
This edition includes two new sections of color photographs as well as a comprehensive new chapter tracing the milestones that led town and gown into the twenty-first century. Topics include the emerging cultural importance of the Classic Center; restoration and revitalization of many historic sites; vast building projects under two presidents of the University of Georgia; the progression of the greenway along the North Oconee River; and initiatives to address rising poverty rates within the county. Blending scholarly research with archival materials, official data, newspaper accounts, interviews, and personal letters and diaries, A Portrait of Historic Athens and Clarke County is the definitive account of a place that makes history each and every day.
About the Author
Frances Taliaferro Thomas was an original member and chair of the Athens Historic Preservation Commission. Her articles on historic preservation have appeared in such publications as "Veranda," "Southern Accents," and "Athens Magazine." She lives with her husband, Emory Thomas, in Athens. Mary Levin Koch, an art historian, research consultant, and former resident of Athens, lives in Lexington, Massachusetts. She is a trustee of the DeCordova Museum and Sculpture Park. She has published articles in several journals, including "Georgia Historical Quarterly," "Atlanta History," and "Georgia Museum of Art Bulletin."
Praise For A Portrait of Historic Athens & Clarke County (Wormsloe Foundation Publication #10)…
"Substantially researched and abundantly illustrated with historic photographs, prints, and drawings, this book is lively reading."--Kenneth Severens, Journal of Southern History

"Like a Greek revival mansion, this well-written book stands as a stately, lovely reminder of the value of landmarks to our quality of life and collective identity."--Thomas A. Scott, Atlanta History

"A handsome guide to the history of Athens and Clarke County which takes a delightful turn from what many have come to expect of local pictorial histories. It is at once two valuable resources: a smooth-flowing narrative description of a community's development, and a pictorial documentation of that same community's physical legacies."--Steve Gurr, Georgia Historical Quarterly

"This 'portrait' of a city and county is well-drawn. . . . The writing itself is solid, entertaining, and clear: the prose style is perfectly adapted to this straightforward history of a town that grows into a city."--Georgia Journal

"It is as encompassing a general history of Athens and Clarke County as there is likely to be written for some time."--Tom Hudson, Athens Magazine

"Well researched without being pedantic . . . Readable without lapsing into the chummy chattiness of many local histories . . . The care that has gone into the research, writing, and illustration of the book elevates it considerably above most similar volumes."--John Seawright, Flagpole

"Enjoyable as a coffee-table book, but more informative . . . Insiders, outsiders, newcomers, and longstanding community members will no doubt enjoy A Portrait of Historic Athens and Clarke County."--Livia Wade, Athens Observer