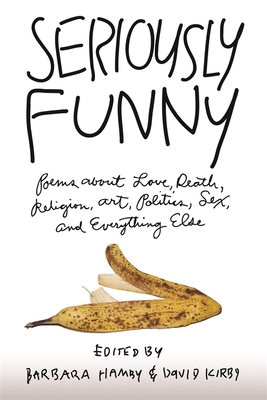 Seriously Funny (Hardcover)
Poems about Love, Death, Religion, Art, Politics, Sex, and Everything Else
University of Georgia Press, 9780820330877, 440pp.
Publication Date: April 15, 2010
Other Editions of This Title:
Paperback (4/15/2010)
* Individual store prices may vary.
Description
Can serious poetry be funny? Chaucer and Shakespeare would say yes, and so do the authors of these 187 poems that address timeless concerns but that also include comic elements.
Beginning with the Beats and the New York School and continuing with both marquee-name poets and newcomers,
Seriously Funny
ranges from poems that are capsized by their own tomfoolery to those that glow with quiet wit to ones in which a laugh erupts in the midst of terrible darkness. Most of the selections were made in the editors' battered compact car, otherwise known as the Seriously Funny Mobile Unit. During the two years in which Barbara Hamby and David Kirby made their choices, they'd set out with a couple of boxes of books in the back seat, and whoever wasn't driving read to the other. When they found that a poem made both of them think but laugh as well, they earmarked it. Readers will find a true generosity in these poems, an eagerness to share ideas and emotions and also to entertain. The singer Ali Farka Tour said that honey is never good when it's only in one mouth, and the editors of
Seriously Funny
hope its readers find much to share with others.
About the Author
Barbara Hamby's most recent book is "All-Night Lingo Tango." Her other books include "Delirium," which won both the Norma Farber First Book Award and the Kate Tufts Discovery Award. David Kirby is the author of "The House on Boulevard St.: New and Selected Poems," which was a National Book Award finalist. His other books include "What Is a Book?" and "Ultra-Talk: Johnny Cash, The Mafia, Shakespeare, Drum Music, St. Teresa Of Avila, And 17 Other Colossal Topics Of Conversation."
Praise For Seriously Funny: Poems about Love, Death, Religion, Art, Politics, Sex, and Everything Else…
"From Frank O'Hara's 'Poem (Lana Turner Has Collapsed!)' and John Ashbery's 'Daffy Duck in Hollywood' to a host of younger poets now writing 'seriously funny' poems, this anthology argues eloquently that poetry is not just the equivalent of somber personal reflection, that indeed from Chaucer to the present, humor, irony, satire, and play are as integral to poetry as they are to narrative prose. Turning the pages of this generous anthology, you will smile and chuckle—and also weep!"—Marjorie Perloff, author of Radical Artifice: Writing Poetry in the Age of Media

"I loved this book. From its mouth-watering table of contents to its last eccentric, splendid poem, Kirby and Hamby have put paid to the notion that serious poetry can't have a sense of humor. When people ask me to recommend something good to read that's both thought provoking and irresistibly entertaining, poetry anthologies don't generally come to mind. This one will."—Nancy Pearl, author of Book Lust

"During a time when so many of our poets seem afflicted by mere self-importance and an almost-Pavlovian tic of irony, this book celebrates the other kind of funny—the sort that is mordant, absurdist, and keen to both laud and critique the madness and fascinating lunacy of our culture. Hamby and Kirby have assembled a bracing set of poems which remind us anew how closely heartbreak, humor and wisdom literature are aligned. These poems spring from necessity, not from the desire for punch lines."—David Wojahn, author of Interrogation Palace: New and Selected Poems 1982–2004