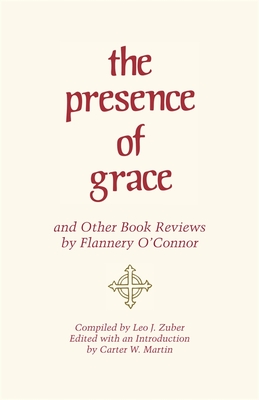 The Presence of Grace and Other Book Reviews by Flannery O'Connor (Paperback)
University of Georgia Press, 9780820331393, 192pp.
Publication Date: March 1, 2008
* Individual store prices may vary.
Description
During the 1950s and early 1960s Flannery O'Connor wrote more than a hundred book reviews for two Catholic diocesan newspapers in Georgia. This full collection of these reviews nearly doubles the number that have appeared in print elsewhere and represents a significant body of primary materials from the O'Connor canon. We find in the reviews the same personality so vividly apparent in her fiction and her lectures--the unique voice of the artist that is one clear sign of genius. Her spare precision, her humor, her extraordinary ability to permit readers to see deeply into complex and obscure truths-all are present in these reviews and letters.
About the Author
Leo Zuber began compiling and gathering this material before his death in 1980. Carter Martin, professor of English at the University of Alabama in Huntsville and author of "The True Country: Themes in the Fiction of Flannery O'Connor," completed the task of editing and wrote the introduction.
Praise For The Presence of Grace and Other Book Reviews by Flannery O'Connor…
"The reviews range in topics from religion, homiletics, theology, biographies, fiction, literary criticism, psychology and intellectual history. Whether history or letters, they always touch on religion, one of O'Connor's central concerns. At the same time, the reviews are testimonies to her rich intellectual life, as evidenced in the variety of books treated and in the rigor to which she submitted her religious convictions. . . . This collection provides valuable material to enrich an understanding of O'Connor's fictional and personal worlds of grace."--Journal of the American Academy of Religion