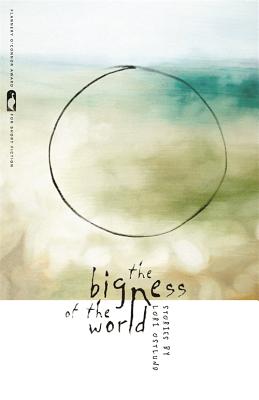 The Bigness of the World (Flannery O'Connor Award for Short Fiction #70)
Hardcover

* Individual store prices may vary.
Other Editions of This Title:
Paperback (2/16/2016)
Paperback (10/1/2010)
Description
In Lori Ostlund's debut collection people seeking escape from situations at home venture out into a world that they find is just as complicated and troubled as the one they left behind.
In prose highlighted by both satire and poignant observation, Ostlund offers characters that represent a different sort of everyman--men and women who poke fun at ideological rigidity while holding fast to good grammar and manners, people seeking connections in a world that seems increasingly foreign. In "Upon Completion of Baldness" a young woman shaves her head for a part in a movie in Hong Kong that will help her escape life with her lover in Albuquerque. The precocious narrator of "All Boy" finds comfort when he is locked in a closet by a babysitter. In "Dr. Deneau's Punishment" a math teacher leaving New York for Minnesota as a means of punishing himself engages in an unsettling method of discipline. A lesbian couple whose relationship is disintegrating flees to the Moroccan desert in "The Children beneath the Seat." And in "Idyllic Little Bali" a group of Americans gathers around a pool in Java to discuss their brushes with fame and ends up witnessing a man's fatal flight from his wife.
In the eleven stories in The Bigness of the World we see that wherever you are in the world, where you came from is never far away.
Praise For The Bigness of the World (Flannery O'Connor Award for Short Fiction #70)…
"The Bigness of the World is simply a stunning collection—every story jewel-crafted and resonant. I read stories to meet people I do not know and have not imagined, but even in that context Lori Ostlund's people are unique. I begin by thinking that I know these characters or have known them. And then somewhere along the way, they shape-shift and startle me. Over and over again I find myself looking at the world from a fresh perspective—this sharp-eyed, compassionate writer's rendering of the world I thought I knew. This is a book to remake our imaginary landscape—the kind of book I not only recommend, I advocate. Read this, I want to tell people. You need these stories. You do."—Dorothy Allison, author of Bastard Out of Carolina and Trash

"These sly stories are funny and unpredictable and graced with priceless details you'll carry with you long after the last page is turned. Whether charting the loneliness of youth, or tracing the emotional upheavals of lovers abroad, Ostlund proves to be a wise, charming, and irresistible guide."—Eric Puchner, author of Music Through the Floor: Stories

"Witty and sharp, Ostlund has crafted eleven surprising and often very funny tales that remind us just how vast the world really is."—Booklist

"Ostlund's artful prose is playfully complex and illuminating, evocative and unsentimental. . . . Each piece is sublime."—Publishers Weekly

"The Bigness of the World wastes no time in establishing Ostlund as one of the new front-runners in Bay Area short fiction."—San Francisco Magazine


"Insights that arrive too late fill these resonant tales--of abandoned lovers, neglected children, and travelers in foreign lands."—Coastal Living
"Lori Ostlund told an interviewer that short stories have always come natural to her. These precise explorations of longing and loss show that she is already a master of that demanding form."—
Magill Book Reviews
"The characters in Ostlund's book are a picky breed, which is not to say they are unlikeable - to the contrary, they are so well-defined that the reader cannot help but find companionship in their annoyances, their frustrations, their search for meaning in a disparate world . . .
The Bigness of the World
is an impressive first collection, and I am excited to see what Lori Ostlund does next."—Kasey Pfab,
The Corresponder
University of Georgia Press, 9780820334097, 214pp.
Publication Date: October 1, 2009
About the Author
Lori Ostlund has taught in Spain, Malaysia, and New Mexico and currently lives and teaches in San Francisco. Her work has appeared in such journals as the "Georgia Review," "Kenyon Review," "New England Review," and "Hobart."
or
Not Currently Available for Direct Purchase