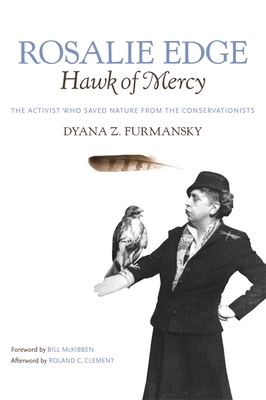 Rosalie Edge, Hawk of Mercy (Paperback)
The Activist Who Saved Nature from the Conservationists (Wormsloe Foundation Nature Book)
University of Georgia Press, 9780820336763, 312pp.
Publication Date: September 1, 2010
Other Editions of This Title:
Hardcover (5/1/2009)
* Individual store prices may vary.
Description
Rosalie Edge (1877-1962) was the first American woman to achieve national renown as a conservationist. Dyana Z. Furmansky draws on Edge's personal papers and on interviews with family members and associates to portray an implacable, indomitable personality whose activism earned her the names "Joan of Arc" and "hellcat." A progressive New York socialite and veteran suffragist, Edge did not join the conservation movement until her early fifties. Nonetheless, her legacy of achievements--called "widespread and monumental" by the New Yorker--forms a crucial link between the eras defined by John Muir and Rachel Carson. An early voice against the indiscriminate use of toxins and pesticides, Edge reported evidence about the dangers of DDT fourteen years before Carson's Silent Spring was published.
Today, Edge is most widely remembered for establishing Hawk Mountain Sanctuary, the world's first refuge for birds of prey. Founded in 1934 and located in eastern Pennsylvania, Hawk Mountain was cited in Silent Spring as an "especially significant" source of data. In 1930, Edge formed the militant Emergency Conservation Committee, which not only railed against the complacency of the Bureau of Biological Survey, Audubon Society, U.S. Forest Service, and other stewardship organizations but also exposed the complicity of some in the squandering of our natural heritage. Edge played key roles in the establishment of Olympic and Kings Canyon National Parks and the expansion of Yosemite and Sequoia National Parks. Filled with new insights into a tumultuous period in American conservation, this is the life story of an unforgettable individual whose work influenced the first generation of environmentalists, including the founders of the Wilderness Society, Nature Conservancy, and Environmental Defense Fund.
About the Author
DYANA Z. FURMANSKY (writing as Dyan Zaslowsky) is coauthor of These American Lands: Parks, Wilderness, and the Public Lands. Her articles on nature and the environment have appeared in the New York Times, American Heritage, Audubon, High Country News, Sierra, Wilderness, and many other publications. Furmansky lives in Denver.
Praise For Rosalie Edge, Hawk of Mercy: The Activist Who Saved Nature from the Conservationists (Wormsloe Foundation Nature Book)…
"Written with disarming and compelling glee, Rosalie Edge, Hawk of Mercy, by Dyana Z. Furmansky, tells the unlikely story of how a poor little rich girl became the most effective American conservationist between John Muir and Rachel Carson." —Audubon

"Clearly relishing every moment of Edge's remarkable life, Furmansky vividly enriches environmental history with her inspiring portrait of this indomitable champion of the wild."—Booklist



"At a time when the future of environmentalism—and the planet—is in question, Furmansky's book pays tribute to a woman who protected ecosystems during difficult economic times, penning inflammatory pamphlets to incite public outrage, harassing the staid leaders of organizations such as Audubon, and lending her voice to scientists too nervous to publicly question common practices, such as poisoning and trapping wildlife. Edge had fire in the belly—and Furmansky's book serves as a timely reminder that today's conservation movement could use a few more firebrands." —High Country News

"It is high time that the full story be told of Rosalie Barrow Edge, an indomitable and early preservationist of birds—especially of hawks and eagles. Furmansky details Edge's battles with the Audubon Society as well as with despoilers of national parks in such a way that Rosalie Edge's role in the history of environmentalism will be restored to its rightful place."—Polly Welts Kaufman, author of National Parks and the Woman's Voice: A History

"Virtually lost for fifty years, the story of Rosalie Edge is brought to life in this remarkable, engaging biography. If you call yourself an environmentalist—or simply a citizen of the earth—you have to read this book."—Alfred Runte, author of National Parks: The American Experience

"A product of extensive research, Rosalie Edge, Hawk of Mercy, chronicles the many accomplishments of a remarkable person while it reveals the often-dramatic story of her life and sheds light on her times. What more can be asked of a biography? Furmansky reveals the early history of land preservation in America to be a story of intrigue, betrayal, anger, and, occasionally, victory. At the center stands a hero, Rosalie Edge—tragic, imperious, and obsessed."—Doug Carlson, author of Roger Tory Peterson: A Biography

"In Rosalie Edge, Hawk of Mercy, Dyana Furmansky restores Rosalie Edge to her proper place in the pantheon of American conservation—a savvy, sharp-tongued, take-no-prisoners activist we should thank every time we gasp in wonder at an old-growth forest of sequoias or sugar pines, walk through an unsullied national park, or watch a hawk circle unmolested in the autumn sky. This biography is a tribute, long overdue, to a warrior for nature."—Scott Weidensaul, author of Living on the Wind and Of a Feather

"Finally, a full and appreciative biography of one of the most significant environmentalists of the twentieth century. Rosalie Edge was unique, a rare species, and nobody else could have achieved what she did. At a time between the world wars when conservation had become too cautious and conservative, too organized, Edge revived the movement by returning to its roots, to the former role of fearless amateur radicals like herself. In the independent founding spirit of John Muir, she called out nature's enemies wherever she found them, from industrial polluters to the halls of Congress to the august chambers of the National Audubon Society. Dyana Furmansky, with the authority of her deep research, tells the story in full detail, and thereby places Rosalie Edge where she belongs in the pantheon of great American environmentalists."—Stephen Fox, author of John Muir and His Legacy: The American Conservation Movement