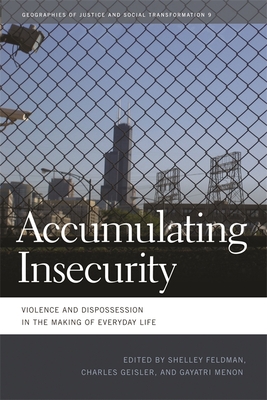 Accumulating Insecurity (Hardcover)
Violence and Dispossession in the Making of Everyday Life (Geographies of Justice and Social Transformation #9)
University of Georgia Press, 9780820338729, 318pp.
Publication Date: March 15, 2011
* Individual store prices may vary.
Description
Accumulating Insecurity examines the relationship between two vitally important contemporary phenomena: a fixation on security that justifies global military engagements and the militarization of civilian life, and the dramatic increase in day-to-day insecurity associated with contemporary crises in health care, housing, incarceration, personal debt, and unemployment.
Contributors to the volume explore how violence is used to maintain conditions for accumulating capital. Across world regions violence is manifested in the increasingly strained, often terrifying, circumstances in which people struggle to socially reproduce themselves. Security is often sought through armaments and containment, which can lead to the impoverishment rather than the nourishment of laboring bodies. Under increasingly precarious conditions, governments oversee the movements of people, rather than scrutinize and regulate the highly volatile movements of capital. They often do so through practices that condone dispossession in the name of economic and political security.
About the Author
Shelley Feldman is a professor of sociology and director of the Feminist, Gender, and Sexuality Studies Program at Cornell University. She is author or editor of three previous books including "Unequal Burden: Economic Crises, Persistent Poverty, and Women's Work." Charles Geisler is a professor of sociology at Cornell University. He is the author or editor of eight previous books including "Property and Values: Alternatives to Public and Private Ownership." Gayatri A. Menon is a visiting assistant professor of sociology at Franklin and Marshall College.