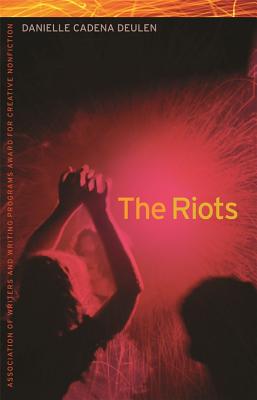 The Riots (Hardcover)
University of Georgia Press, 9780820338835, 188pp.
Publication Date: May 1, 2011
* Individual store prices may vary.
Description
Constantly surprising, these personal essays explore the attractions and dangers of intimacy and the violence that often arises in close relationships. Deulen's artful storytelling and dialogue also draw the reader into complicated questions about class, race, and gender.
In "Aperture," she considers how she has contributed to her autistic brother's isolation from family and from the world. "Theft" investigates her mother's romantic stories about conquistadors in the context of the Mexican heritage of her biracial family. Throughout the collection Deulen experiments formally, alternating traditional narrative with "still life" essays and collages that characterize a particular time, place, and sensibility.
Deulen is remarkable in her ability to present her own confusion and culpability, and she also writes with compassion for others, such as her own suicidal and unpredictable father or a boy in her class who sets the teacher's hair on fire. In part because she herself so poorly fits the identities she might be assigned--white in appearance, she is in fact half Latina; raised in a poor neighborhood, she has acquired an education associated with the middle class--Deulen sees "otherness" as a useless category and the enemy of intimacy, which she embraces despite its risks.
The Riots seeks to create what Frost called "a momentary stay against confusion," and Deulen investigates her own act of creation even as she uses the craft of writing to put parentheses around the chaos of continuous living.
About the Author
Danielle Cadena Deulen currently lives in Cincinnati where she is an assistant professor of poetry at the University of Cincinnati. Her essays are forthcoming in "The Iowa Review" and" American Literary Review." Her poetry collection "Lovely Asunder" received the Miller Williams Arkansas Poetry Prize and was recently published by the University of Arkansas Press. Learn more at www.danielledeulen.com
Praise For The Riots…
"There are moments of transcendent prose in this manuscript that elevate it far beyond what we might expect of it at first blush. It manages to become more profound, and more beautiful, the more desperate and tragic its trajectory. Finally, it is a triumph of wisdom and great art."—Luis Alberto Urrea, author of Into the Beautiful North
"There is general agreement that adverse childhood experiences leave permanent scars, but with a person as gifted as Danielle Cadena Deulen, the result is transformative for writer and reader alike...Deulen poignantly and poetically relates the effects such experiences had on her, her family, and those around her. It is a sad, but beautiful, and, ultimately uplifting compilation."—
ForeWord Reviews
"Fierce, tender, explosively honest, Danielle Cadena Deulen's radiant debut sings like a prose poem and lingers like a fever dream. In the liminal world of The Riots, the face of a dead girl under the bridge worries a hole in your mind though you never see her, mercy shatters trust, and a boy's stuttering confession of love exposes his sister's crimes against him. Through the grace and devastation of shared memory, Deulen dares to know the dispossessed, to re-invent her father's life and try to save him as a child. She remembers what cannot be, transfiguring herself through the passion of desire."—Melanie Rae Thon, author of In This Light
"
The Riots
is rooted firmly in that world of hurt, mired in the struggle to understand and accept the past, and to do so—crucially—without being defeated by the onslaught of negative memory."—
Diagram
or
Not Currently Available for Direct Purchase