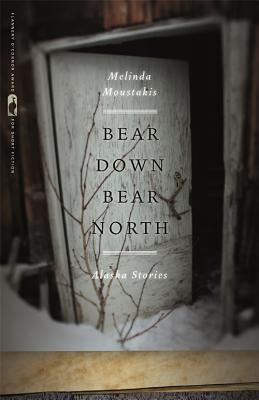 Bear Down, Bear North
Alaska Stories
Hardcover

* Individual store prices may vary.
Description
In her debut collection, Melinda Moustakis brings to life a rough-and-tumble family of Alaskan homesteaders through a series of linked stories. Born in Alaska herself to a family with a homesteading legacy, Moustakis examines the near-mythological accounts of the Alaskan wilderness that are her inheritance and probes the question of what it means to live up to larger-than-life expectations for toughness and survival.
The characters in Bear Down, Bear North are salt-tongued fishermen, fisherwomen, and hunters, scrappy storytellers who put themselves in the path of destruction--sometimes a harsh snowstorm, sometimes each other--and live to tell the tale. While backtrolling for kings on the Kenai River or filleting the catch of the Halibut Hellion with marvelous speed, these characters recount the gamble they took that didn't pay off, or they expound on how not only does Uncle Too-Soon need a girlfriend, the whole state of Alaska needs a girlfriend. A story like "The Mannequin at Soldotna" takes snapshots: a doctor tends to an injured fisherman, a man covets another man's green fishing lure, a girl is found in the river with a bullet in her head. Another story offers an easy moment with a difficult mother, when she reaches out to touch a breaching whale.
This is a book about taking a fishhook in the eye, about drinking cranberry lick and Jippers and smoking Big-Z cigars. This is a book about the one good joke, or the one night lit up with stars, that might get you through the winter.
Praise For Bear Down, Bear North: Alaska Stories…
"In this sharply-crafted debut collection, Moustakis invites readers into a world filled with gruff characters, breathtaking wilderness, and a fierceness of spirit as crisp as the Alaskan winter . . . The gifted Moustakis' attention to detail and blunt, sharp prose will surely resonate with readers and fellow writers alike."—Publishers Weekly (starred review)



"The Kenai is the lifeblood that flows through Moustakis' arrestingly concise, subtly poetic, and piercing short stories about several generations of an extended family."—Booklist (starred review)
"Moustakis allows readers to fully witness how experience—from a poverty that necessitates scavenging through the belongings of the dead to a younger sister's beating—can shape lives without creating eternal victims. Burdens become gritty, matter-of-fact reminders that profound emotions often lie behind even the most unflinching exteriors. A welcome tribute to working class lives, Bear Down, Bear North is a debut of impressive voices in the wilderness."—ForeWord Reviews
"Melinda Moustakis' stunning debut book, Bear Down, Bear North . . . is a muscular and lyrical short story collection of moxie and love of the land set in her home state of Alaska. Moustakis' stories are built out of short vignettes, revolving around rough childhoods, fishing, hunting, drinking and regretting, all part of the saga of several generations of a homesteading family."—Kansas City Star
"Bear Down, Bear North plunges its reader deep into tangled relations and beautiful places. This small craft of 13 linked stories holds everything necessary to survive the frigid Alaskan waters. . . . Melinda Moustakis works words attentively and playfully, slipping like a skater among her subjects, whether describing frenzied salmon spawning in the Kenai River or rowdy children rescuing a bird from a privy."—High Country News
"Using a series of quick micro-chapters -- an approach sometimes called 'modular fiction' -- Moustakis jumps between past and present in collages of verbal snapshots that crowd upon each other to create an indelible mood and characters as focused and real as those in John Steinbeck's novels."—
Anchorage Daily News
"Moustakis crafts memorable characters with the raunchy dialogue of those who must grow up fast in the wilderness--'bear down'--or slink off to 'the lower 48 in places like Nashville and Omaha.'"—
Shelf Awareness
"
Bear Down, Bear North
is a beautiful collection of interlinked short stories, showing landscapes as ruggedly sparse as the often bleak but still lyrical prose, where people eat unspecified tins or starve until the next moose wanders past their door, and the secret world of fishing becomes poetry in motion . . . You can feel Moustakis' knowledge and love for her state emitting from every well chosen word. I cannot wait to read more of what she produces; this is one writer worth watching."—
For Books' Sake
University of Georgia Press, 9780820338934, 158pp.
Publication Date: September 15, 2011
About the Author
Melinda Moustakis was born in Fairbanks, Alaska, and raised California. She received her MA from UC Davis and her PhD in English and Creative Writing from Western Michigan University. In addition to winning the Flannery O'Connor Award, her book "Bear Down, Bear North: Alaska Stories" won the Maurice Prize, was shortlisted for the William Saroyan International Prize for Writing, and was a finalist for the Washington State Book Award. Her stories have appeared in "Alaska Quarterly Review," "Kenyon Review," "New England Review," "Conjunctions," "Cimarron Review," "American Short Fiction," and elsewhere. She was named a 2011 "5 Under 35" writer by the National Book Foundation and is currently a 2012-2013 Hodder Fellow at the Lewis Center for the Arts at Princeton University.
or
Not Currently Available for Direct Purchase