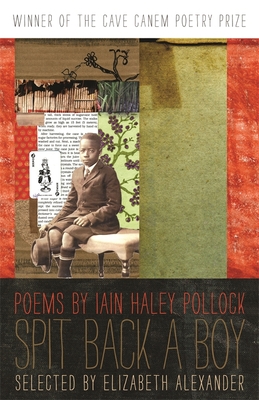 Spit Back a Boy (Paperback)
Poems (Cave Canem Poetry Prize)
University of Georgia Press, 9780820339085, 78pp.
Publication Date: June 15, 2011
* Individual store prices may vary.
Description
Iain Haley Pollock's poems cover the ground from a woman late to catfish supper to an ancient queen who howls, "Sea, you is ugly," from the creaking of slave ships launched from Lancaster to gunfire on a contemporary Philadelphia street. Such lyric moments find grounding in stories woven through this book--in one story line, a boy with a black mother and white father wishes he could shed his white skin or carve into what lies beneath: "I flung my almost white self / into my mother's embrace--that brown / embrace I hoped would swallow me whole / and spit back a boy four shades darker." Another thread follows a marriage and a woman intertwined with hunger and the blues, a woman who hears a whale song in a refrigerator's hum, who cries hard like the lonely barking of a fox.
Even when these poems soften, they can't be complacent about good fortune: for all the maple seedpods and snow fluttering down here, the poems are always aware of wreckage and car bombs there, and they keep conscious of the mustard gas of old wars and the losses of recent ones. Punctuated with lives that end early, such as those of Hart Crane and Mikey Clark, a high-school classmate who once swiped the Communion wine, Pollock's collection earns its vitality and romance without closing its eyes to violence and sorrow.
About the Author
IAIN HALEY POLLOCK lives in Philadelphia and teaches English at Chestnut Hill Academy. His work has appeared in publications including AGNI, American Poetry Review, Boston Review, Callaloo, Drunken Boat, and Indiana Review.
Praise For Spit Back a Boy: Poems (Cave Canem Poetry Prize)…
"Beyond the bracing intelligence in these poems, beyond the surges of joy and trouble, beyond the poet's awe in this split second, he plunges with imagination into the timeless work of loving witness, resonant with high style and the blues. Wherever Iain Pollock turns, the search is on, in history, art, family, in things on display and hidden in himself. What he finds he finds the art to celebrate with tenderness and wisdom."—Brooks Haxton, author of They Lift Their Wings to Cry
"If the ear is tuned to catch it, there is music in our blood. Train the eyes for nuance, you can trace the history of our skins. In Spit Back a Boy, his impressive first book, you can read the dance Iain Haley Pollock has had with time, location, family and their various repercussions. A lesser poet would freeze in complaint. If the spirit is generous, and the balance between living and letters match, a fine book of poems sings the author and the reader free."—Cornelius Eady, Miller Family Chair in Writing and Literature, University of Missouri-Columbia
"Iain Haley Pollock's debut volume
Spit Back A Boy
. . . .is a shapeshifter that keeps saying, in so many different ways, how varied, how complex the African-American poetic idiom is, how complex the American poetic idiom is."—Jake Adam York,
On the Seawall