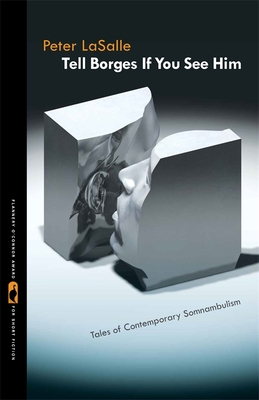 Tell Borges If You See Him (Flannery O'Connor Award for Short Fiction #69)
Paperback

* Individual store prices may vary.
Description
To be untethered in the waking world, to have the feeling that perhaps we are sleepwalking--that's what life can be like for the people in these eleven stories by Peter LaSalle, known to readers of leading literary magazines for his luminous prose style and narrative daring.
The characters range from a fragile, and very rich, Mount Holyoke College girl in Paris to an out-of-work American businessman caught up in an international financial scam in Buenos Aires; from a happy-go-lucky old piano-lounge performer, once famous in all the New England seaside resorts, to a quartet of passengers on a bus barreling across the Mexican desert on Christmas Eve--and heading right toward a nightmarish encounter indeed on the road. In one story, a troubled guy who is somehow both himself on a hockey scholarship at Harvard in the sixties and himself a few decades later, meets his beautiful lost girlfriend at a long-gone Cambridge cafeteria. The busboys become hovering angels. Time slips backward and forward. Things that happened may not have happened. While rich with specific detail of character and place, these stories also tap into the stranger kind of clarity that does come, paradoxically, from subtle disorientation, as found in innovators like Nabokov and Borges. LaSalle's lovely, rhythmic sentences, in which an aside can sometimes be the central concern, create a captivating permeability in the boundary between real and unreal while always enchanting with their power simply to tell a moving story. This is very original short fiction that aspires to nothing less than reasserting the wonderful possibilities of the genre--or, as the narrator of the story "The End of Narrative" ultimately suggests: "Maybe narrative hadn't ended, which is to say, hasn't ended."
University of Georgia Press, 9780820342160, 272pp.
Publication Date: April 1, 2012
About the Author
Peter LaSalle is the author of several books, including both novels and story collections--most recently What I Found Out About Her and Sleeping Mask: Fictions. His fiction and essays have been selected for a number of award anthologies, such as Best American Short Stories, Best American Mystery Stories, Best American Travel Writing, Best of the West, Best American Fantasy, Sports' Best Short Stories, and Prize Stories: The O. Henry Awards. A new collection of essays on literary travel, The World Is a Book Indeed: Writing, Reading, and Traveling, will appear in 2020. He is a member of the creative writing faculty at the University of Texas at Austin.