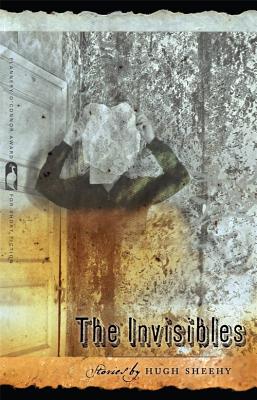 The Invisibles (Hardcover)
University of Georgia Press, 9780820343297, 208pp.
Publication Date: October 1, 2012
* Individual store prices may vary.
Description
Though Hugh Sheehy's often tragic, sometimes gruesome stories feature bloodied knives and mysterious disappearances, at the heart of these thoughtful thrillers are finely crafted character studies of people who wrestle with the darker aspects of human nature--grief, violence, loneliness, and the thoughts of crazed minds.
Sheehy's stories shine a spotlight on the bleak fringes of America, giving voice to the invisibles who need it most. A dismal assistant teacher spiking her coffee after school is suddenly locked in a basement with a student who has just witnessed his father's murder. A seventeen-year-old girl at a skate rink whose name no one can remember is motherless, friendless, and sure she will be the next to go. The heartbroken victim of a miscarriage dreams of her fetus's voyage through the earth's plumbing. The estranged addict son, certain of his innate goodness, loses himself in a blizzard and fails his family again. Sheehy's characters learn that however invisible they may feel and whatever their intentions, their actions incur a cost both to themselves and those around them. They struggle to tame or come to terms with the forces they meet--the tragedies--that are far larger than their small existences. In this debut, Sheehy illuminates the all-but-silent note of adult loneliness and how we cope with it or, perhaps, just move past it.
About the Author
HUGH SHEEHY s stories have appeared in such publications as "Five Points," "Cincinnati Review," "Kenyon Review," "Glimmer Train," "Antioch Review," "Crazyhorse," and "Copper Nickel." He teaches creative writing and literature at Ramapo College of New Jersey."
Praise For The Invisibles…
"Lordy, what an oddly compelling duke's mixture of characters Hugh Sheehy has given us to root for: the deracinated, the woebegone, the goofy-minded, the flummoxed, and the distracted. Invisibles, indeed. These are the folks who've left a moment too late, or arrived an instant too early. These are the neighbors who never blow up until they do. These are the ones with wonts and wants. With bones that won't last. With dreams that bleed away in the light. Mr. Sheehy has given each the dignity of story. It is the felicity of these smartly crafted narratives that will save them and us both."—Lee K. Abbott, author of All Things, All at Once: New and Selected Stories

"There's more life—grief, heartbreak, comedy—in a Hugh Sheehy story than in many, many novels. Greet the real thing, a true storyteller, fully formed. That these stories are beautifully crafted (and they are beautifully crafted) is almost beside the point. Each one of the stories in The Invisibles is gripping. You don't want to stop reading, period." —Peter Orner, author of Love and Shame and Love

"What I loved about Hugh Sheehy's The Invisibles is the way he marries literary writing and characterization with suspenseful storytelling. The stakes of his stories are unrelentingly high, and reading them together amplifies the dark urgency of even the quieter domestic tales."—Holly Goddard Jones, author of Girl Trouble

"In The Invisibles, Hugh Sheehy shines the bright light of his fiction on characters most of us refuse to see: the misfits and strangers, the lost and abandoned. Ralph Ellison blamed invisibility on 'a peculiar disposition of the eyes.' In these eleven moving stories, Sheehy opens our eyes and asks us to see."—Ed Falco, author of Sabbath Night in the Church of the Piranha: New and Selected Stories

"A little violence goes a long way and the lurking fear at the heart of these stories elevates them beyond the merely promising to reveal a wicked new talent."—Publishers Weekly (starred review)

"[F]resh yet deeply knowing collection. . . . In his flawless, fluid, droll, and suspenseful tales of deceptively routine lives, Sheehy dramatizes loneliness, terror, and loss with arresting restraint, focusing on the percussive aftermath of violence. A writer of evocative subtlety and uncanny power . . . Sheehy reveals what's hidden in plain sight to clarion effect."—Booklist (starred review)


"Left behind, the characters in The Invisibles try to make sense of what remains. . . . [Y]ou'll remember them all — Sheehy's finely crafted genre-bending mash-up of thrillers, fairy tales, realism and children's stories makes sure of it. . . . Fairytale and folkloric elements create a timeless, mythical atmosphere more Grimm than grits, a place where even the most contemporary characters, teens desperate to stand out from the crowd, come across like a gothy Hansel and Gretel." —Gina Webb, Atlanta Journal-Constitution

"Sheehy's stories seem to glow in the dark, and reading them feels a little like watching fireflies light up at night. . . . Besides being engaging, Sheehy's thrillers are original, warped additions to what can sometimes feel like an all-too-familiar and predictable genre. . . . Reading these stories feels almost like intruding—like finding oneself in the wrong place at the wrong time, or like opening a door that was supposed to stay closed. The feeling of having trespassed is worth it, though, for the reader intrudes just as Sheehy's characters call out to be seen, and in those moments moment, they appear, as if out of the darkness, on dazzling display."—Rachel Levy, The Rumpus