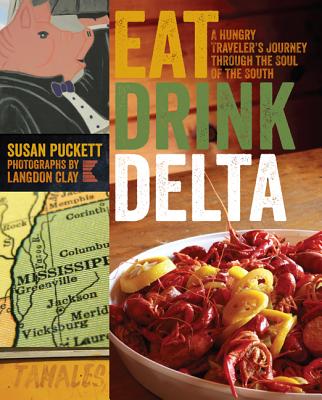 Eat Drink Delta
A Hungry Traveler's Journey Through the Soul of the South
Paperback

* Individual store prices may vary.
Description
The Mississippi Delta is a complicated and fascinating place. Part travel guide, part cookbook, and part photo essay, Eat Drink Delta by veteran food journalist Susan Puckett (with photographs by Delta resident Langdon Clay) reveals a region shaped by slavery, civil rights, amazing wealth, abject deprivation, the Civil War, a flood of biblical proportions, and--above all--an overarching urge to get down and party with a full table and an open bar.
There's more to Delta dining than southern standards. Puckett uncovers the stories behind convenience stores where dill pickles marinate in Kool-Aid and diners where tabouli appears on plates with fried chicken. She celebrates the region's hot tamale makers who follow the time-honored techniques that inspired many a blues lyric. And she introduces us to a new crop of Delta chefs who brine chicken in sweet tea and top stone-ground Mississippi grits with local pond-raised prawns and tomato confit. The guide also provides a taste of events such as Belzoni's World Catfish Festival and Tunica's Wild Game Cook-Off and offers dozens of tested recipes, including the Memphis barbecue pizza beloved by Elvis and a lemon ice-box pie inspired by Tennessee Williams. To William Faulkner's suggestion, "To understand the world, you must first understand a place like Mississippi," Susan Puckett adds this advice: Go to the Delta with an open mind and an empty stomach. Make your way southward in a journey measured in meals, not miles.
Praise For Eat Drink Delta: A Hungry Traveler's Journey Through the Soul of the South…
"Finally! A book devoted entirely to the foodways of Mississippi's delta—cradle of the civil rights movement, birthplace of the blues, and a confounding culinary region where stuffed grape leaves cozy up to barbecue, tamales to fried green tomatoes, and kibbeh to lemon icebox pie. In Eat Drink Delta Mississippi native Susan Puckett makes sense of it all—town by town, kitchen by kitchen, dish by dish—in an engaging travelogue that takes the reader to family-run roadhouses, seasonal tea rooms, postmodern bistros, and out-of-the- way juke joints. In her sojourns, Puckett charmed the best recipes out of the region's cooks, making this not only the best insider's guide to the area but a superb delta cookbook as well—you'll need one copy for the car and one for the kitchen!"—Matt Lee and Ted Lee, authors of The Lee Bros. Simple Fresh Southern: Knockout Dishes with Down-Home Flavor

"A travelogue, a guide to Delta dining, and a cookbook, Susan Puckett's Eat Drink Delta uses foodways as a window to the region's culture. It will appeal to anyone who wants to better understand the Delta, whether from an armchair or a car."—Dr. Luther Brown, director of the Delta Center for Culture and Learning at Delta State University

"Eat Drink Delta eloquently tells the story of the deepest south of the Deep South, the land where black and white can have sharp contrasts, and yet many of the food traditions are blended into a rich, smooth mélange, much like the soil itself. Puckett immerses the reader in a tale that shares how the dark, fertile soil of the Delta nurtures crops as well as American food and culture. The land that produced King Cotton also produced the King of Rock and Roll. And the land that produced catfish and BBQ now produces kibbee and Chinese collard greens. Puckett's artful storytelling creates a vivid scene—not mere guidebook information—revealing a true culinary journey through one of the largely unknown areas of the country."—Virginia Willis, author of Bon Appetit, Y'all: Recipes and Stories from Three Generations of Southern Cooking

"[Eat Drink Delta] works as a fun, flip-through read, with enough incentives to propel you into the kitchen to try one of the recipes that represent the diversity and character of the Delta."—Sherry Lucas, Clarion-Ledger

"The real story of the Delta is multi-layered. And it's a subject tackled with research and respect by food writer Susan Puckett. . . . She approaches the subject with a reporter's eye. The 11-page introduction provides a sweeping overview of the area, touching down on its history, its economy, its industries and its attitudes."—Susan Langenhennig, Times-Picayune

"Jackson native Susan Puckett takes Southern foodies on a gastronomic journey through the Delta. . . . Taking 18 years of experience as a food editor, Puckett whips up a great read about tried-and-true Southern favories in this guidebook of old and new Delta hot spots."—Mississippi Magazine

"[Susan Puckett's] journalistic style focuses on the personalities and stories behind the restaurants she eats at, and wants you to eat at, instead of the food alone. . . . Although recipes pop up regularly in its pages, Eat Drink Delta is less of a cookbook than it is journalistic coverage of the Delta's dining scene. While reading it will have you ready to squeeze in a few days of vacation for a Delta excursion, Puckett's writing is thick with stories worth perusing from a Georgia porch with no intention of travel."—Andre Gallant, Athens Banner-Herald

"For anyone making a trip to a region that's been called the most Southern place on earth, Eat Drink Delta is indispensible. It belongs in every Mississippi-bound automobile, right next to the GPS. Just be sure to grab plenty of paper napkins, too. You'll need them to catch all that tamale juice dripping down your face."—Wendell Brock, Paste Magazine
University of Georgia Press, 9780820344256, 296pp.
Publication Date: January 25, 2013
About the Author
SUSAN PUCKETT is a native of Jackson, Mississippi, and a graduate of the University of Mississippi. She was the food editor at theAtlanta Journal-Constitution for eighteen years and has written for many national food and culture magazines. She is an author of six previous books, including A Cook's Tour of Mississippi and The 5:30 Challenge Cookbook. Puckett lives in Atlanta.