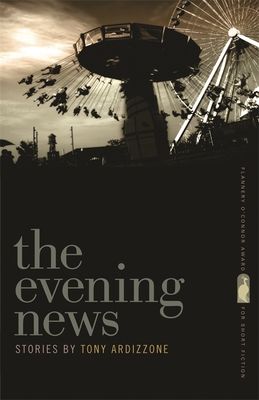 The Evening News (Paperback)
Stories (Flannery O'Connor Award for Short Fiction #73)
University of Georgia Press, 9780820344614, 178pp.
Publication Date: March 1, 2013
* Individual store prices may vary.
Description
Tony Ardizzone writes of the moments in our lives that shine, that burn in the dim expanse of memory with the intensity and vivid light of the evening news. The men and women in these stories tend to arrange their days, order their pasts, plan their futures in the light of such moments, finding epiphanies in the glowing memory of a father's laugh or a mother's repeated story, in a broken date or a rained-out ball game.
Set mostly in Chicago's blue-collar neighborhoods, these stories focus on subjects that concern us all: disease and death, vandalism and sacrilege, rape and infidelity, lost love. The husband and wife in the title story look at their pasts--his as an activist in the sixties and hers as a believer in reincarnation and the tarot--in light of the news stories they watch on television each evening and question whether they should bring a child into the world. And in "The Walk-On," a bartender and former varsity pitcher for the University of Illinois Fighting Illini finds the actual events of the most cataclysmic day in his past unequal to their impact on his life and so rewrites them in his mind, adding an ill-placed banana peel, a falling meteor, and a careening truck in order to create a more fitting climax and finally to leave those memories behind him.
Searching their pasts for clues to the present, searching the horizons of their days for love, the characters in The Evening News seek, and sometimes find, redemption in a world of uncertainty and brightly burning emotions.
About the Author
Tony Ardizzone is the author of seven books of fiction, most recently The Arab's Ox: Stories of Morocco, an updated edition of his previously published collection, Larabi's Ox. His novels include The Whale Chaser, In the Garden of Papa Santuzzu, Heart of the Order, and In the Name of the Father. His work has received the Milkweed Editions National Fiction Prize, the Chicago Foundation for Literature Award for Fiction, the Virginia Prize for Fiction, the Pushcart Prize, and two NEA fellowships, among other honors. A native of Chicago, he currently lives in Portland, Oregon.