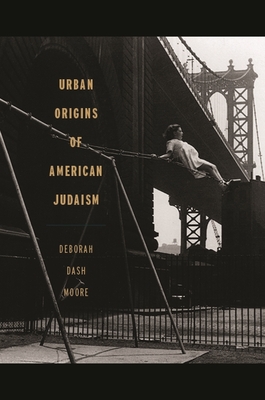 Urban Origins of American Judaism
Hardcover

* Individual store prices may vary.
Other Editions of This Title:
Paperback (2/1/2017)
Description
The urban origins of American Judaism began with daily experiences of Jews, their responses to opportunities for social and physical mobility as well as constraints of discrimination and prejudice. Deborah Dash Moore explores Jewish participation in American cities and considers the implications of urban living for American Jews across three centuries. Looking at synagogues, streets, and snapshots, she contends that key features of American Judaism can be understood as an imaginative product grounded in urban potentials.
Jews signaled their collective urban presence through synagogue construction, which represented Judaism on the civic stage. Synagogues housed Judaism in action, its rituals, liturgies, and community, while simultaneously demonstrating how Jews Judaized other aspects of their collective life, including study, education, recreation, sociability, and politics. Synagogues expressed aesthetic aspirations and translated Jewish spiritual desires into brick and mortar. Their changing architecture reflects shifting values among American Jews. Concentrations of Jews in cities also allowed for development of public religious practices that ranged from weekly shopping for the Sabbath to exuberant dancing in the streets with Torah scrolls on the holiday of Simhat Torah. Jewish engagement with city streets also reflected Jewish responses to Catholic religious practices that temporarily transformed streets into sacred spaces. This activity amplified an urban Jewish presence and provided vital contexts for synagogue life, as seen in the captivating photographs Moore analyzes.
University of Georgia Press, 9780820346823, 208pp.
Publication Date: October 15, 2014
About the Author
DEBORAH DASH MOORE is the Frederick G. L. Huetwell Professor of History and director of the Frankel Center for Judaic Studies at the University of Michigan.