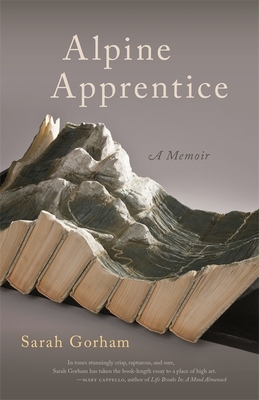 Alpine Apprentice
Paperback

* Individual store prices may vary.
Description
Sarah Gorham recounts her childhood education as a rebellious, insecure, angry girl shipped overseas to a tiny international school perched on a mountain shelf in Bernese-Oberland, Switzerland. There, boot camp style, she experienced deprivation, acute embarrassment, and keen educational guidance, all in the name of growing up. The Swiss landscape influenced her with its paradoxes: unforgiving slopes and peaks; government-controlled hills and valleys--so, too, the languages she's obliged to learn: one ruffian, the other militaristic.
Though her stay lasted a mere two years, her time there was so crucial in her transition to adulthood that she returns to those years decades later, each and every night in memory and dream. There are brief forays into the science of surviving an avalanche; Sherlock Holmes's faked demise at the Reichenbach Falls; the origins of meringue; and the history of homesickness and its spiritual twin, Sehnsucht. In her travels Gorham tracks an adolescent experience both agonizingly familiar and curiously exotic.
University of Georgia Press, 9780820350721, 208pp.
Publication Date: March 1, 2017
About the Author
SARAH GORHAM is a poet, essayist, and president and editor in chief at Sarabande Books, an independent literary press publishing poetry, short fiction, and essays. She is the author of, most recently, Study in Perfect (Georgia), which won the Association of Writers and Writing Programs Award for Creative Nonfiction. She lives in Prospect, Kentucky.