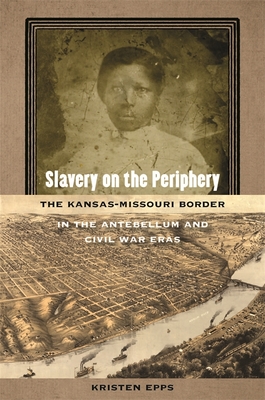 Slavery on the Periphery
The Kansas-Missouri Border in the Antebellum and Civil War Eras (Early American Places #5)
Paperback

* Individual store prices may vary.
Other Editions of This Title:
Hardcover (12/1/2016)
Description
Slavery on the Periphery focuses on nineteen counties on the Kansas-Missouri border, tracing slavery's rise and fall from the earliest years of American settlement through the Civil War along this critical geographical, political, and social fault line. Kristen Epps explores slavery's emergence from an upper South slaveholding culture and its development into a small-scale system characterized by slaves' diverse forms of employment, close contact between slaves and slaveholders, a robust hiring market, and the prevalence of abroad marriages. She demonstrates that space and place mattered to enslaved men and women most clearly because slave mobility provided a means of resistance to the strictures of daily life. Mobility was a medium for both negotiation and confrontation between slaves and slaveholders, and the ongoing political conflict between proslavery supporters and antislavery proponents opened new doors for such resistance. Slavery's expansion on the Kansas-Missouri border was no mere intellectual debate within the halls of Congress. Its horrors had become a visible presence in a region so torn by bloody conflict that it captivated the nineteenth-century American public.
Foregrounding African Americans' place in the border narrative illustrates how slavery's presence set the stage for the Civil War and emancipation here, as it did elsewhere in the United States.
University of Georgia Press, 9780820354781, 284pp.
Publication Date: July 15, 2018
About the Author
KRISTEN EPPS is an associate professor of history at Kansas State University. Her work has been published in the edited collection Bleeding Kansas, Bleeding Missouri: The Long Civil War on the Border and the journal Kansas History.