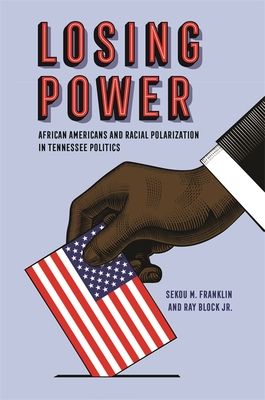 Losing Power (Hardcover)
African Americans and Racial Polarization in Tennessee Politics
University of Georgia Press, 9780820356051, 268pp.
Publication Date: January 1, 2020
* Individual store prices may vary.
Description
Tennessee has made tremendous strides in race relations since the end of de jure segregation. African Americans are routinely elected and appointed to state and local offices, the black vote has tremendous sway in statewide elections, and legally explicit forms of racial segregation have been outlawed. Yet the idea of transforming Tennessee into a racially equitable state--a notion that was central to the black freedom movement during the antebellum and Jim Crow periods--remains elusive for many African Americans in Tennessee, especially those living in the most underresourced and economically distressed communities.
Losing Power investigates the complex relationship between racial polarization, black political influence, and multiracial coalitions in Tennessee in the first decade of the twenty-first century. Sekou M. Franklin and Ray Block examine the divide in values, preferences, and voting behaviors between blacks and whites, contending that this racial divide is both one of the causes and one of the consequences of black Tennesseans' recent loss of political power.
Tennessee has historically been considered more politically moderate and less racially conservative than the states of the Deep South. Yet in recent years and particularly since the mid- 2000s, Republicans have cemented their influence in the state. While Franklin and Block's analysis and methodology focus on state elections, political institutions, and public policy, Franklin and Block have also developed a conceptual framework for racial politics that goes beyond voting patterns to include elite-level discourse (issue framing), intrastate geographical divisions, social movements, and pressure from interest groups.
About the Author
Sekou M. Franklin (Author) SEKOU M. FRANKLIN is an associate professor of political science at Middle Tennessee State University and the author of After the Rebellion: Black Youth, Social Movement Activism, and the Post-Civil Rights Generation. Ray Block Jr. (Author) RAY BLOCK JR. is an associate professor of political science and African American and Africana studies at Penn State University.