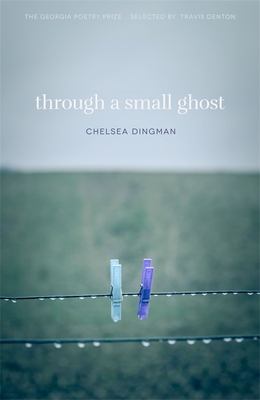 Through a Small Ghost (Paperback)
Poems (Georgia Poetry Prize)
University of Georgia Press, 9780820356570, 96pp.
Publication Date: February 15, 2020
* Individual store prices may vary.
Description
This collection of poems speaks to the grief and trauma associated with stillbirth and infertility. But more than that, these poems are concerned with how both parents deal with this trauma without letting it tear them or their relationship apart. There are threads beneath the surface of the poems that speak to the inequality in these relationships and in the male-female dynamic, whether this inequality is perceived or real. Dingman also questions the perception of reality itself when dealing with the traumatized mind.
Dingman asks the difficult questions that surround child-rearing. Are the children themselves everything the parents had hoped for? Is there still something missing? She explores the invisibility of the mother after she has children, as well as what a woman is willing to sacrifice in terms of body, country, and relationship. Set against changing political climates in Florida, Canada, and Denmark, these poems navigate the geopolitical differences that influence the experience of parenting.
About the Author
CHELSEA DINGMAN's first book, Thaw (Georgia), was chosen by Allison Joseph to win the National Poetry Series. Dingman is also the author of the chapbook What Bodies Have I Moved and has won the Southeast Review's Gearhart Poetry Prize, the Sycamore Review's Wabash Prize, the Water-stone Review's Jane Kenyon Poetry Prize, and the South Atlantic Modern Language Association's Creative Writing Award for Poetry. Visit her website: chelseadingman.com.