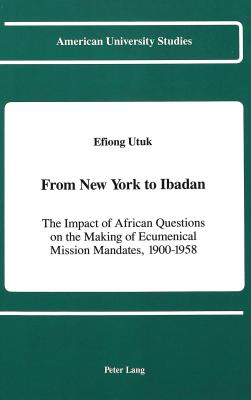 From New York to Ibadan (Hardcover)
The Impact of African Questions on the Making of Ecumenical Mission Mandates, 1900-1958 (American University Studies #82)
Peter Lang Gmbh, Internationaler Verlag Der W, 9780820414010, 352pp.
Publication Date: June 1, 1991
* Individual store prices may vary.
Description
This book focuses on the Ecumenical Movement with particular emphasis on Africa's impact on the making of ecumenical mission mandates during the formative years, 1900-1958. Previous studies have mainly focused on the Continents of Europe, North America, and Asia, with Africa seen as inactive during these years. By contrast Dr. Utuk concentrates on the problems which helped to give birth to the Movement, with Africa seen as an indispensable ecumenical partner. This fresh perspective emerges through an analysis of sixteen conferences based on six fascinating themes, including the role played by several, hitherto unknown, native African and African-American pioneer ecumenists. Utuk's evidence and arguments will be of great interest to historians, social scientists and all those concerned with the future of Christianity and ecumenism in our modern world.
About the Author
The Author: Efiong Utuk is the director of the Center for African Mission Research and Information, Willingboro, New Jersey. He previously served as Teaching Fellow at Princeton Theological Seminary, Princeton, New Jersey, and as librarian at H.W. Wilson Company, Bronx, New York. He belongs to many professional and honor societies, including the American Library Association, American Society of Missiology, International Sociology Honor Society, and International Library Science Honor Society. He has written widely in journals. He received his Ph.D., Cum Laude, from Princeton Theological Seminary, and his M.L.S. from Rutgers University.
or
Not Currently Available for Direct Purchase