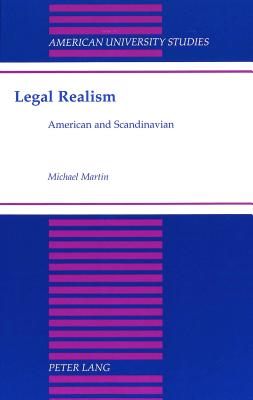 Legal Realism (Hardcover)
American and Scandinavian (Studien Zur Interkulturellen Geschichte Des Christentums #179)
Peter Lang Gmbh, Internationaler Verlag Der W, 9780820434629, 242pp.
Publication Date: June 1, 1997
* Individual store prices may vary.
Description
As one of the most important movements in twentieth century legal thought, legal realism continues to be a source of controversy and inspiration. This study provides the first critical comparison and evaluation of American and Scandinavian legal realism. Presenting, evaluating, and reformulating the basic ideas of American legal realists such as Karl Llewllyn, Walter Wheeler Cook, Herman Oliphant, Jerome Frank, and Underhill Moore in the first part of the book, the author devotes the second part to a critical appraisal and reformulation of the major doctrines of Scandinavian legal realists such as Axel Hagerstrom, A. V. Lundstedt, Karl Olivecrona, and Alf Ross. The book also reveals the misunderstanding of legal realism by legal philosophers such as H. L. A. Hart and Ronald Dworkin and the connections of legal realism to the critical legal studies movement.
About the Author
The Author: Michael Martin is a professor of Philosophy at Boston University. He received a Ph.D. in Philosophy from Harvard University and was a Liberal Arts Fellow in Law and Philosophy at the Harvard Law School. In addition to numerous articles in professional journals, he is the author of "The Legal Philosophy of H. L. A. Hart: A Critical Appraisal; Atheism: A Philosophical Justification"; and "The Case against Christianity." He is also co-editor with Lee McIntyre of "Readings in the Philosophy of Scocial Science."
or
Not Currently Available for Direct Purchase